End-Use Case Study
PC/acrylic alloy offers superior impact strength compared to polycarbonate
Dimensionally stable and resists deformation
Processed at lower temperatures than PC decreasing cycle times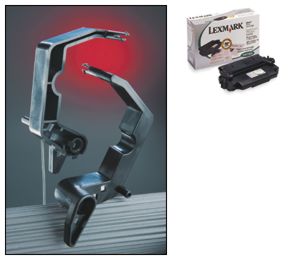 Replacing acetal with a proprietary RTP Company 1800A Series polycarbonate/acrylic alloy compound solved two problems for Joe McGuire, Manufacturing Engineer at Lexmark. "We reduced material and processing costs by moving to this solution," explained McGuire. "The material flows well in a four-cavity mold with small gates, has good dimensional stability characteristics, and it's economically priced. It all adds up to a better product at a competitive price."
McGuire specifies the specialty compound for a shutter actuator used on a printer toner cartridge. The actuator holds the shutter open during printing; the part must sustain its dimensions and resist bending for long periods of time. The RTP 1800A solution features flexural modulus of 0.35 psi x 106 (2412 MPa).
The material also improves impact strength with a notched IZOD at 1/8 in (3.18 mm) of 30.0 ft lbs/in (1602 J/m). "There are two small snap details on the part, one that automatically locks into the shutter and one into the housing of the printer cartridge. Without the right material, we would experience significant breakage. We do extensive drop testingÑeight times at 36 in (0.91 m) heightÑwhile the toner cartridge is in its package. These parts have not failed a single drop test."
Bryan Kalvig, Processor at Complex Tooling & Molding, concurs with McGuire. "The first time I molded the material, I was intrigued by this new alloy combination. My concerns disappeared immediately…the material has no odor, is very stable and flows easily." PC/Acrylic compounds can be processed at lower temperatures than PC, decreasing the cooling time and improving injection molding cycle times.
Lexmark is also testing an RTP 1800A flame retardant compound for the shutter component. Because of its proximity to heat, the part requires flame retardance in addition to impact resistance and good heat distortion found in the unique alloy. RTP Company's 1800A FR compound has a flammability rating of V-0 at 1/16 in (1.59 mm) and has a notched IZOD at 1/8 in (3.18mm) of 16.0 ft lbs/in (854 J/m).
Lexmark International, Inc., (NYSE:LXK) is a leading, global developer, manufacturer and supplier of printing solutions, including laser and inkjet printers and associated supplies for offices and homes. Call them in Lexington, Kentucky, at (859) 232-2000 or visit their website at www.lexmark.com. Complex Tooling & Molding has multiple locations serving the computer and automotive industries. Headquarters are in Boulder, Colorado, at (303) 530-2094.