Quality and Global Capabilities are Key Requirements to Manufacturer of Plumbing Products
Solution 1: Precolored compound for lens component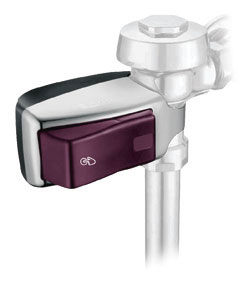 William E. Sloan, founder of Sloan Valve Company, developed the ingenious Flushometer almost 100 years ago. The revolutionary diaphragm-type valve offered considerable benefits over toilet tanks, such as saving water, less maintenance, freedom from breakage and vandalism, and virtually no recycling time between flushes.
Today, Sloan's pressure-assist technology has been embraced in both commercial and residential marketplaces. Sloan has maintained its leadership by continually providing quality plumbing operating systems and bringing advancements to the market. One such product is the new SMOOTH™ (Side Mount Optima® Over The Handle) which slips over any standard Sloan manual Flushometer and transforms the previous manual valve into an automatic sensor-activated valve.
Sloan required a specialty compound with exceptional quality for the main blue/purple pushbutton lens component which houses the gear train and electronics. Because of the demanding performance requirements, Sloan chose RTP Company to formulate a precolored RTP 300 Series polycarbonate compound with UV stabilizer. The compound provides the necessary mechanical properties, chemical resistance, and optical characteristics for the component.
"A malfunctioning product would be difficult to diagnose if the resin was not compounded correctly," said Peter Jahrling, Director of Engineering at Sloan. "Foremost on our list of requirements for this application was the quality of compounding and RTP Company was chosen because of its unquestionable quality."
Solution 2: Long Fiber compound for sensor wall plate
RTP Company also formulated a companion material with structural reinforcement for the sensor wall plate that required increased stiffness and rigidity to withstand the repeated pressure of being pushed. The compound, an RTP 200 Series nylon 6/6 long glass fiber easy molding material, offers a tensile strength of 36,000 psi (248 MPa) and a flexural modulus of 2.80 x 106 psi (19,306 MPa). "We chose this compound because the material has similar mechanical characteristics to zinc, but in a moldable form," said Jahrling.
Sloan Valve Company has produced plumbing products for commercial, industrial, and institutional markets worldwide since 1906. For more information, visit www.sloanvalve.com.
Precise Quality Around the Globe
Manufacturing capabilities around the globe are critical to Sloan. RTP Company's new state-of-the-art facility in Suzhou, China provides a solution to some of Sloan's supply issues and performance challenges. Although products are developed in the United States, they are often manufactured in China. RTP Company will now be able to provide quick responses and shorter lead-times by being in close proximity to Sloan's molders in the region and help ensure quality of materials.
"Regardless of where in the world the compounds come from, maintaining consistency in the optical properties of the material is very important," said Jahrling. "Since RTP Company's quality is so precise, having materials manufactured at the RTP facility in Suzhou will yield piece of mind about the component's performance."