End-Use Case Study
High strength, rigidity, and impact resistance
Lightweight
Improved laser-marking characteristics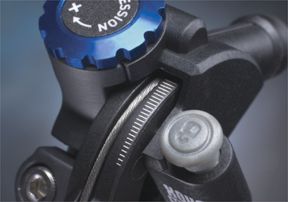 All over the world, cycling enthusiasts instantly recognize and respect the name SRAM. Since 1987, the company's components—and more recently suspension systems—have set the standard for innovation and quality demanded by racing and off-road cyclists. In a sport where weight reduction is at a premium, they have pioneered the use of injection molded engineering thermoplastic compounds to provide lightweight strength for many of their products.
Typical of SRAM's attention to detail, the design of a new PopLoc™ control for a RockShox adjustable suspension system required specialized materials to make the concept a reality. Rather than placing the adjustment lever on the suspension system itself, SRAM decided to place the control on the handlebar, providing easy access to the rider. Additionally, integrating a readable setting scale allows cyclists to quickly and confidently adjust damping for upcoming terrain and provide a reliable positioning reference.
SRAM finish manager Patrick Brady knew what material would meet the project's structural requirements of strength, rigidity, and impact resistance. In previous applications, Brady had specified an RTP 200A Series glass fiber reinforced nylon 6 compound with great success. "This material has served us well in other components and, structurally, we knew it would perform here," he said. Highly reinforced, the compound exhibits a tensile strength of 24,000 psi (165 MPa) and flexural modulus of 1.7 psi x 106(11,713 MPa), meeting the needs for strength and rigidity. A notched Izod value of 4.0 ft.lbs./in (214 J/m) provides the necessary impact resistance.
However, incorporating the fine gradations of a scale proved a challenging task. Part geometry precluded molded-in markings, and pad printing would lack necessary durability. Laser-marking would be the ideal method, but real success in marking reinforced nylon has been, at best, elusive. "We were prepared to offer the product without the gradations, if necessary," according to Brady.
RTP Company was up to the challenge, and worked with SRAM to modify the compound to offer improved laser-marking characteristics. "We've come to depend on RTP Company to meet our structural needs, but what really helped this project evolve was their support capabilities," Brady said. Making use of in-house development equipment, RTP Company engineers provided molded samples with test laser-marking patterns for Brady's review and approval. He continued, "This was all accomplished in a very satisfactory timeframe and left no doubt as to the success of the project."
"RTP Company provided us the same mechanical performance and added the laser-markable quality we needed allowed us to offer our customers the extras they've grown accustomed to expecting from SRAM," Brady concluded.
SRAM Corporation, headquartered in Chicago, IL, manufactures cycling components and RockShox suspension systems from facilities located throughout the world. For more information, visit their website at www.sram.com.