End-Use Case Study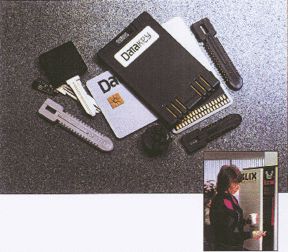 How would you like to be able to purchase a plastic card for, let's say $10, that you could use in vending machines in place of coins, for the purchase of soda, candy, cigarettes, stamps, etc. Each time you make a purchase, the price is subtracted from the balance. When you've used up your $10 worth, you purchase a new card. Sounds too good to be true? Not in Europe, where these and other transactions are completed in just this way.
An American company involved in this portable memory-based service is Datakey, Inc., Burnsville, Minnesota. One of their data carriers is used by a European customer in a cashless vending machine that dispenses hot and cold drinks.
Datakey Inc. designs, produces and markets specialty-class portable data carriers in the form of keys, cards and custom shapes for the electronics OEM market. These small, memory-based devices serve as a convenient way to carry and transfer machine readable information. Originally a key-shaped 1400 bit device, the data carriers have expanded to include different memory types, sizes, shapes and performance characteristics.
RTP Company supplies custom compounds for many of the injection molded carriers. These tough, wear resistant materials protect the data carriers' embedded memories so they retain data when exposed to environmental hazards.