End-Use Case Study
Lubricated Elastomer Compound Cushions Movement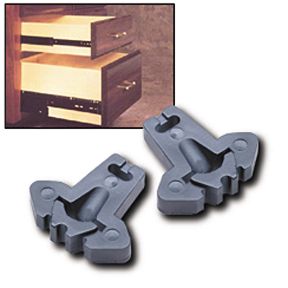 Knape & Vogt in Grand Rapids, Michigan, manufactures quality drawer slides for home/kitchen cabinetry, office furniture and files, institutional furniture, and other applications. Their precision ball bearing slides last longer and operate more smoothly thanks to sequencing bumpers molded with an RTP 1500 Series co-polyether-ester thermoplastic elastomer compound from RTP Company.
Tim Graber, Chief Design Engineer for Knape & Vogt, explains, "The sequencing bumpers improve the life cycle of the slides and act as a cushion. They force the drawer to move in a certain way to help the slides last longer."
The elastomer compound specified for the two-part bumpers features a hardness of 45 Shore D and a specific gravity of 1.27. The compound is lubricated with PTFE and silicone that extends wear and keeps the consumer from feeling the pull as the slide is engaged.
"We began working with sequencing bumpers two years ago," continued Graber. "Initially, we tried a few different materials, but this compound had both durability and ease of processing. It was definitely the material of choice for our molder."
Knape & Vogt manufactures and supplies quality products and services to hardware stores, home centers, specialty distributors, and original equipment manufacturers throughout the world. Contact them by phone at (616) 459-3311 or visit their website at www.knapeandvogt.com. Molder SAC Plastics, Inc., is located in Spring Lake, Michigan.