End-Use Case Study
Long fiber nylon replaced aluminum & magnesium
Light weight reduces operator fatigue
No sacrifice in strength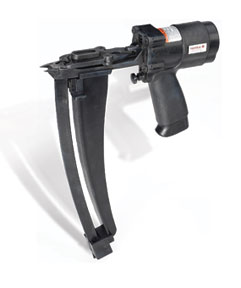 Lighter, Faster and Cheaper.
Vertex Fasteners Inc. received these comments while conducting research on fastening tools for the bedding and furniture industry. Vertex has made a name in the industry by being a leader in technology, creating solutions to challenges that, in some cases, make traditional fastening tools obsolete.
Long fiber compounds from RTP Company are at the heart of several innovations that Vertex Fasteners pioneered. Custom formulations were first developed for their ProClinch tool that reduces operator fatigue because it is lighter and easier to operate. Now, Vertex Fasteners has once again sought RTP Company's expertise on metal-to-plastic conversions for their new hog ring tool for D-rings.
RTP 200 Series nylon 6/6 long glass fiber compounds replaced the heavy aluminum and magnesium body along with the pusher assembly used by other manufacturers. "Some of the industry complaints which we felt needed addressing were the weight of the tool and the cumbersome process of loading hog ring strips into the tool," said Mike Repp, Product Engineer at Vertex Fasteners. "RTP Company compounds allowed us to reduce the weight of the tool significantly without sacrificing strength.Ê It also allowed design changes that reduced the multiple-step loading process. The tool is 23% lighter and 50% faster than its nearest competition!"
Long fiber thermoplastic compounds are often the best choice for many applications that have traditionally implemented metal as the primary material. Reinforcement additives, such as glass fibers that run continuously through the length of the plastic pellets, provide an astounding strength-to-weight ratio with the ability to withstand extremely heavy loads over long periods of time. Cost reduction may be substantial, especially with the recent increase in metal prices. Plastics also have significant property advantages over metal, as noted in the table below.
RTP Company delivers metal replacement compounds, such as long fiber, that improve performance in demanding conditions. "Faster, lighter tools are what our industry is looking for," explains Repp.Ê "Our tools are lighter, but yet tough enough to stand up to continuous use in a manufacturing environment."
Vertex Fasteners Inc is a Subsidiary of Leggett & Platt, a fortune 500 company, supplying the fastening needs of the bedding and furniture industry. For more information, call 847-329-8530.