End-Use Case Study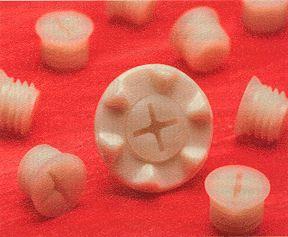 "Traditional golf spikes actually punctured the crown of grass plants, weakening them and making them vulnerable to disease," says Mark Moore, developer of the Gripper Golf Cleats. "Turf and other property damage were key to many courses banning the use of spikes in recent years."
The popularity of lower profile cleats has stepped-up as a practical and functional alternative.
Moore, along with business partner Leonard Nosewicz, designed and began production of a ceramic cleat system which uses a high-impact nylon 6 (RTP 200 A Series) specialty compound for mounting screws. The ceramic cleats are nearly indestructible, and the screws play a critical role in the design of the application.
The mounting screw is made from an RTP 200A Series (high-impact nylon 6) compound with glass reinforcement. The specialty compound exhibits an un-notched impact strength of 17 ft. lbs./in. at 1/8 in. and a tensile strength of 13,500 psi. The screws are molded under strict quality standards by Cal-Tron Corp. of Bishop, CA.
Cal-Tron Corp. (619-873-8491) is a close-tolerance injection molder of engineered thermoplastics serving the communications, aerospace, sports, electronics and music industries. Gripper Golf Cleats, located in Golden, CO, is a division of Coors Ceramics based in Golden, CO.