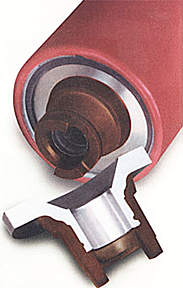 Eastman Kodak Company of Rochester, NY combines insert molding technology with an RTP Company high temperature specialty compound. The components, end caps for fuser rolls, are used in the Kodak 3100 Duplicator high-speed copy machines and LionHeart power printing systems. The end caps, known as gudgeons, are attached to each end of aluminum fuser roll cores. The heated cores fuse toner to paper or transparencies.
The physical and thermal demands on the part require low thermal conductivity, excellent dimensional stability, high strength and wear resistance. During operation, the gudgeons transfer 150 lbs. (68 kg.) of force to the roller while retaining dimensional stability within 0.001 in. (0.025 mm.) at an operating temperature of 450 degrees F (232 degrees C).
An RTP 4200 Series (thermoplastic polyimide) specialty compound with glass reinforcement meets all performance requirements. Specification and development of the specialty compound were accomplished through combined efforts of molder Pixley Richards, Inc. of Plymouth, MA, Kodak and RTP Company.
The gudgeons feature a stainless steel insert, which bonds with the specialty compound through a combination of mechanical engagement and shrink fit. The insert-molded part was designed in 1995 to reduce costs while retaining performance. Previously, the part was made of glass-filled thermoset polyimide.
"There are limits when processing high performance materials," says Ian MacLeod, vice president of engineering for Pixley Richards. "This compound seems to allow you to stretch those limits better than many other materials."
Pixley Richards addressed numerous manufacturing issues, including a capable interface between the specialty compound and the stainless steel insert. Pressures, temperatures and fill rates were all adjusted to achieve a solidly knit part.
The specialty compound achieves a tensile strength of 26,895 psi (185 MPa) and molding shrinkage of .0053 in./in. at 1/8 in. (0.53 percent) at room temperature.
Pixley Richards (tel. 508-746-6082) is a custom injection molder with more than 40 presses from 28 to 250 tons. They specialize in insert molding and serve all major markets.