End-Use Case Study
Application Dictates Multiple Material Demands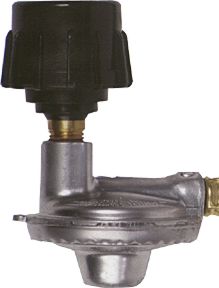 The Marshall Brass Company, a division of the S.H. Leggit Company, is a leading supplier of fabricated brass components for the LP gas, plumbing, outdoor cooking and recreational vehicle markets.
When new standards were established for outdoor grill LP gas fittings, Marshall Brass investigated the use of engineered thermoplastics for a key component of the assembly. The application, a wheel nut for gas connection assemblies, requires environmental and structural integrity.
RTP Company and Marshall Brass worked together to determine and develop a material meeting a variety of strict performance standards.
The specialty compound used for the application is an impact modified RTP 200A Series (nylon 6) with fiber reinforcement. The material is a precolored wrought iron black.
The compound exhibits an unnotched impact strength of 17 ft-lbs/in (908J/m) at 1/8 in (3.2 mm) and a hardness (Rockwell R) of 118. The material has a tensile strength of 14,000 psi (96 MPa) and a flexural modulus of 0.65 x 106 psi (4479 MPa). The compound provides excellent resistance to detergents, animal fats and propane gas.
Midtec of America, Inc., in McPherson, KS, molds the wheel nuts. Due to the important role of the component, close tolerances are maintained to meet newly revised ANSI (American National Standards Institute) standards for all outdoor LP gas connection assemblies. Ensuring compatibility and improved performance, the system is listed by Underwriters Laboratories, the American Gas Association and the Canadian Gas Association.
The patent-pending design, developed by Marshall Brass, meets or exceeds all of these and other standards. "The new connection assembly utilizes common right-hand threads and thermally-activated shut-off in the event of heat buildup," says Tom Mummert, Marshall Brass project engineer. "The new design minimizes the flow of gas if there is a sudden drop in system pressure."