End-Use Case Study
Cross-Functional Team of Engineering, Sheet, and Color Solve Challenges in Medical Housing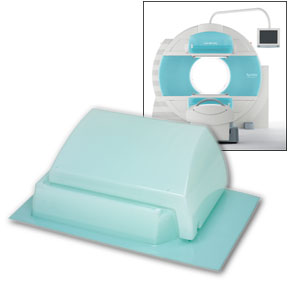 Twenty years ago in a farm shop, Kent and Curt Grimm began fabricating electronic cabinets. The brothers' ingenuity and can-do attitude took them from these humble beginnings to becoming thermoforming specialists. Today, Grimm Brothers Plastics is a world-class operation working with customers in some of the most demanding, technology- driven markets.
"Our customers have helped us evolve by giving us the opportunity to rise to their standards by meeting new application challenges," explained Larry Moser, Sales and Marketing Manager at Grimm Brothers.
One such customer is Siemens Medical Solutions, who worked with Grimm when developing custom housing for its Symbia Medical Imaging System. Because of the unique needs of the housing, Grimm selected RTP Company's Sheet & Film Division to formulate a custom solution.
"The housing was particularly challenging because it had a three-prong need," explained Moser. "The sheet product required a V-0 flame rating, coupled with translucency and a critical color match to the desired translucent mint green color."
Not only is this color an integral part of Siemens' corporate branding identity, it is also used to create a soothing, visually welcoming environment. To find the solution for these requirements, RTP Company brought together three facets of its organization: Research & Development, the Sheet & Film Division, and the Color Division.
Engineers analyzed the V-0 flame ratings and worked closely with the RTP Color experts to determine how the rating requirements would affect the complex color requirements, which was a light-diffused mint green. Flame retardants typically increase the complexity of achieving a specific color, especially in a translucent sheet product incorporating light-diffusing technology. Communication with the Sheet & Film Division on processing requirements was critical.
Because of RTP Color Division's Your Color — Your Way  service, customers can receive color in their preferred mode whether it's masterbatch or precolor. Variations of both methods were formulated for Grimm to determine which one was ideal for the application.
"Everyone at RTP Company was really trying," said Moser. "Our project received attention from the highest levels throughout the RTP Company organization. They had a willingness to learn every aspect of what we were trying to do and come back with a new solution."
As a result of the intense efforts of the cross-functional team, a custom RTP 300 Series polycarbonate flame retardant sheet was created for the housing that met all the application challenges. The Symbia Medical Imaging System went on to receive global recognition for its overall design, including winning a Gold Industrial Design Excellence Award in 2006. Siemens has since changed the Symbia system and the housing material has evolved away from this formulation.
RTP Company has also evolved, having acquired Wiman Corporation in September 2006. The Sheet & Film Division now has capability to manufacture film products ranging in thickness from 0.004 to 0.400 inches and can offer materials in everything from PVC to PEEK. Now more than ever, RTP Company is on the forefront in developing specialty sheet and film products.
Grimm Brothers Plastics Corp.'s heavy-gage thermoforming business is located in Wapello, Iowa. Advanced capabilities include vacuum, pressure, and twin-sheet forming; CNC trimming; painting and decorating; shielding; spin-cast urethane; and high-level assembly. www.grimmbros.com.