End-Use Case Study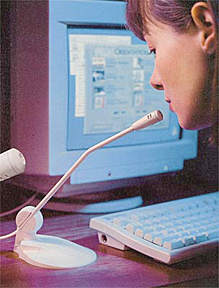 Voice Commander computer microphones, made by Telex Communications, Inc., feature high-resolution, unidirectional sound capabilities. The devices are available with standalone bases or self adhesive brackets.
When Telex sought critical color matches for microphone components, they turned to RTP Company. Various parts are molded from different resin systems, which can present coloring challenges.
"Since some of the parts are in motion against one another, we opted to use different resins for mating parts," says Gene Nelson, Telex production engineer. "The ability to meet critical color matches in multiple resin systems is a strength offered by RTP Company."
The material's cleanliness is also important, according to Nelson. "The microphones are bundled with other computer accessories or sold individually," he says. "Consistently clean material, from compounding through molding, is vital to the success of the product in the field."
The microphones consist of a cap, body and two-part brackets. The cap, body and one part of the bracket are made of a precolored RTP 600 Series (ABS) compound. The bracket base and stand base are made from an RTP 300 Series (polycarbonate) compound.
The microphones require durability and impact resistance during use. The polycarbonate and ABS materials exhibit compressive strengths of 12,500 psi (86 MPa) and 7,700 psi (53 MPa), respectively and provide excellent unnotched impact strengths of no break.