End-Use Case Study
Light a Path During Emergency Evacuations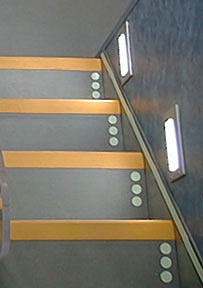 Picture yourself on a cruise ship, train, or on the top floor of a skyscraper. Now, close your eyes and imagine being there in the dark. A fire has erupted and dense smoke is looming above. Your instincts scream at you to get out quickly, and you search for a path to safety. If you're lucky, that pathway is illuminated with photoluminescent lighting.
Tragedies often occur when people are unable to find their way to safety. Traditional overhead lighting, which often becomes obscured by smoke, is under scrutiny. During emergency evacuations, people need a clearly identified egress path. On September 11th the World Trade Center had pathway markings in the stairwells that served as a glowing guide to safety. The American Public Transport Association (APTA) and the New York City Department of Buildings are now specifying and requiring installation of photoluminescent materials for egress markings.
International Name Plate Supplies Ltd. (INPS) has taken a proactive response to the recommendations, developing several innovative, inexpensive and time saving solutions to achieve guideline compliance. They have already been awarded the contract to supply photoluminescent materials to satisfy the Low-Level Emergency Egress APTA requirements for all existing New Jersey Transit commuter rail rolling stock. 90,000 photoluminescent Firefly™ dots will be used for an automated floor installation that will far exceed the APTA luminance requirements. Additionally, INPS's Firefly™ products, in continuous lengths, will be installed in other rail cars.
INPS turned to RTP Company for high performance glow compounds and their expertise in measuring glow brilliance and duration. "RTP Company was able to resolve our material issues and provide dedication to our goals from the top down to make our product work," commented Tom Freeman, Engineering Manager at INPS. "They came to the table, made the commitment, and now our product works, and it works great. "RTP Company's engineers developed two custom compounds for INPS from their broad portfolio of glow-in-the-dark products that surpass the recommended photoluminescent standards.
The Firefly™ dots, which serve as the glow-in-the-dark egress floor pads, uses an injection molding grade of RTP 300 Series precolored polycarbonate compound with improved impact properties. For the continuous extruded length, an RTP 1200 Series polyurethane thermoplastic elastomer was developed with flame retardant and low out-gassing properties, and passed smoke density and fire ratings for flooring.
As the leading independent specialty compounder, RTP Company has the ability to work with companies, such as INPS, that help ensure the safety of people worldwide. INPS surpasses photoluminescent regulations and provide a glowing path when emergencies happen, and darkness comes.
International Name Plate Supplies Limited (INPS), has grown from a small signage and engraving shop to an Internationally recognized quality producer of a multitude of product and corporate identification products. For more information, call 519-455-7647 or go to www.inps.on.ca.