End-Use Case Study
Long fiber nylon replaced stainless steel
Cost-effective and corrosion resistant
Increased impact strength without sacrificing modulus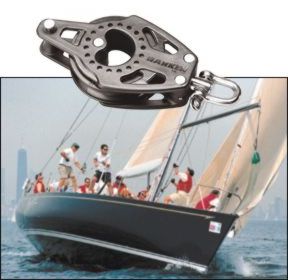 "Our use of plastics is rising exponentially," proclaims Peter Harken, President of Harken, Inc. This non-traditional approach has allowed the Pewaukee, Wisconsin-based company to dominate the marine hardware industry with a sculpted all-plastic block that is strong, cost-effective, and corrosion resistant.
In their continual search for innovative materials, Harken's engineers called on RTP Company for a specialty compound for the side plates of their sailboat blocks. These plates are the main load-bearing elements of the blocks, which are located throughout the craft wherever a rope is turned. Previously constructed from stainless strapping, they are now molded inhouse at Harken using an RTP 200 Series nylon long fiber reinforced compound. Precolored in a rich black with added UV stabilization, the compound adds a modern, sleek look to the blocks.
Harken is joining a growing number of designers and manufacturers who rely on long fiber compounds as an excellent alternative to metal. These compounds dramatically increase impact strength without sacrificing flexural modulus. "The loading–and the performance–we're getting in RTP's material means we can totally replace the stainless steel reinforcing strips," said Harken. Notched impact strength of the compound is 5.0 ft lbs/in at 1/8 in (3.175 mm) while flexural modulus is 1.50 x 106 psi (10335 MPa).
"We did an ash test on the side plates," said Kevin Monahan, Chief Engineer of the Custom Division at Harken. "We were both surprised and pleased at the length of fibers remaining intact through the molding process."
Harken, Inc., in Pewaukee, WI, supplies quality sailboat hardware and other marine gear to sailors around the world–especially in racing competitions–where their gear is dominant in the Olympics, America's Cup, and other major international events. In 1993, they won the prestigious President's "E" Award for their contributions to the U.S. Export Expansion Program. Contact Harken at 414-691-3322.