End-Use Case Study
Nylon 6/10 Compound Is Wear Resistant In Wet And Dry Conditions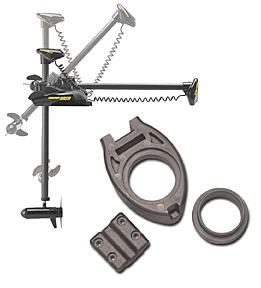 Trolling for "keepers" on a scenic lake or river takes concentration. Many times, both hands are busy with rods and reels, nets, and tackle. That's why JWA developed the innovative Minn Kota® Genesis, a bow-mounted trolling motor that's easy to maneuver in and out of the water with a single foot-controlled button.
Two telescoping tubes that glide smoothly inside one another control the unique twist-and-turn or raise-and-lower motions of the motor. In designing the key components that serve as bearing surfaces in the telescope mechanism, JWA's engineers searched for a durable compound that would stand up to extended wear in both wet and dry environments.
Molder Injection Technologies in Cokato, Minnesota, recommended an RTP 200B Series nylon 6/10 specialty compound reinforced with glass fiber and lubricated with PTFE.
The material is used in the lower bushing, belt clamp, and cap lower. The bushing guides the motor's vertical movement, the clamp secures the fiber-impregnated drive belt engaged in vertical movement, and the cap lower is a lubricated structural member-bearing surface for the bushing and for angular movements.
The precolored black compound features a wear factor of 18 and a dynamic coefficient of friction of 0.31. Flexural strength is 32,000 psi (220 MPa) and notched IZOD impact strength at 1/8 in is 2.0 ft lbs/in (107 J/m). The lower water absorption of nylon 6/10 (0.20% in 24 hours @ 23 degrees C) versus other nylons makes components more dimensionally stable in wet surroundings.
"RTP Company was aggressive in coming through with the right compound at the right price," said Steve Benda, President of Injection Technologies. "JWA competes in a highly price-sensitive market and has to keep a close eye on its costs. The added value is RTP's quality of technical support."
Minn Kota®, a division of JWA, is headquartered in Racine, Wisconsin. Call 800-299-2JWA or visit their website at www.jwa.com for more information on their wide range of quality products for serious fishermen. Injection Technologies of Cokato, Minnesota, specializes in product design and development with engineering grade specialty resins. Reach them by calling 320-286-6406.