End-Use Case Study
Lubricated Compound Smooths Transom-Mount Motor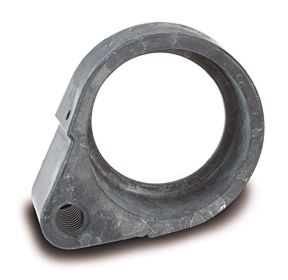 When Minn Kota® designed the first transom-mount trolling motor with a power retract and deploy mechanism, it turned to RTP Company for a wear-resistant compound that would smoothly and durably withstand metal abrasion.
The yoke lift screw in the new Minn Kota® Vantage Motor is made from an RTP 800 Series acetal compound reinforced with glass fiber and lubricated with PTFE and silicone. The lift screw holds a threaded metal rod that is turned by gears and automatically lowers or raises the motor to the engaged or stowed position. Flexural strength of the compound is 21,000 psi (145 MPa).
"The project was first specified with a simpler glass-filled resin, but we wanted to minimize the use of grease and oil so the part doesn't get contaminated with dirt," explained Todd Lofald, Purchasing Agent for molder Highlight, Inc. "RTP's engineers invited us to visit their headquarters to consider alternatives and test samples," continued Lofald.
Dennis Starner, Director of Engineering for Minn Kota®, added, "The small amount of grease we do use to minimize the friction dissipates over time. Adding lubrication to the compound extends the operational life of our product."
Minn Kota®, a division of JWA, is headquartered in Racine, Wisconsin. Call 1-800-299-2JWA or visit their website at www.jwa.com for more information on their wide range of quality products for serious fishermen. Highlight, Inc., is located in Sparta, Wisconsin. Contact them at 608-269-3191.