End-Use Case Study
Color effects used to differentiate and attract attention
Metallic and chroma-shift color technologies
Precolored polycarbonate offers excellent impact strength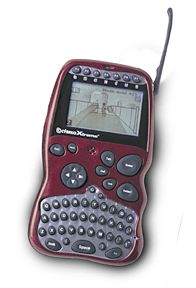 Capturing the attention of the youth market isn't easy. In addition to requiring cutting edge technology, these often picky consumers look for eye-catching design and style when popularizing new gadgets.
Cybiko Incorporated, a Blooming-dale, IL based electronics company, wanted to push the envelope of color when introducing their new wireless personal digital assistant, the Cybiko Xtreme®. To be successful within the competitive world of the electronics industry, they needed something that would make their product stand out from the rest. They turned to the color specialists at RTP Company to make that happen.
"RTP Company showed us a variety of new colors. These colors were consistent with the research that we had done in the industry and found to be prominent," commented Senior Product Planner, Justin Brennan. "RTP Company had a variety of technologies to show us and could offer the consistency we were looking for."
Enclosures and covers molded for the Cybiko Xtreme® use an RTP 300 Series polycarbonate, precolored in metallic and chroma-shift colors. Adding a trendy flair, the chroma-shift parts change color because of a precise combination of pigments and dyes that display a geometric metamerism, commonly referred to as "color travel" or "chameleon effect".
These color technologies feature excellent heat and light stability. Couple that with a notched impact strength of 15 ft lbs/in at 1/8 inch (801 J/m at 3.18 mm) and the compound's great dimensional stability, and you have the perfect material for this type of application.
With a myriad of features aimed toward students which include an e-mail, games, scientific calculator, organizer, address book, alarm clock, and MP3 player, this hand held is at the top of its class. Adding rich, sophisticated colors that glimmer will add to the popularity of the Xtreme® PDA and in the process make learning a more enjoyable experience.
As with all new product development, time and quality were an issue. RTP Company met the challenge with superior service. "Every time we meet with RTP Company they were very helpful." Stated Brennan, "We got the information that we needed in a quick and timely manner. When we asked for samples of the products, we got them in a couple of days. In the future, we will definitely look to RTP Company as an excellent source for precolored materials."
For more information on RTP Company precolored and structural compounds, call (507) 454-6900 or (800) 433-4787.
Cybiko, Incorporated is located in Bloomingdale, IL. Visit their website at www.cybikoxtreme.com.