End-Use Case Study
Materials satisfy FAA requirements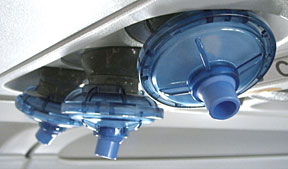 Have you experienced flu-like or cold symptoms during or immediately after flying and blamed the poor air quality on your flight? If so, you are not alone. A recent study indicates 70% of passengers believe that recirculated air causes illnesses. In fact, participants in the study were found to have a 300% increase in risk of illness following the flight over those who do not fly.
Neal Avery, President of Avertech, Inc., drew upon his background in medical device manufacturing and HEPA filtration to convert his concerns into an innovative concept. He conceived the "Plane Clean Air" filter that attaches to the air nozzle located above passenger seats. The air stream flowing from the filter functions as an invisible curtain that forces unwanted viruses and allergens away.
The filter requires two diverse types of plastic that must meet the strict requirements of the FAA and FDA. Neal utilized RTP Company's knowledge of polymer technology to solve his design issues. "RTP has been excellent in successfully formulating two types of plastics that meet the stringent requirements of our products," said Avery. "RTP demonstrated their expertise and diligence by quickly providing test plaques that meet all our design criteria."
The first custom compound, an RTP 300 Series Polycarbonate with PTFE and a flame retardant, lowers frictional forces facilitating easy manipulation when adjusting the air nozzle. The second compound, a flame retardant RTP 300 Series Polycarbonate, is optically clear with a blue tint, so users can see the filter media inside. Drawing upon in-depth knowledge of flame retardant materials, RTP Company engineered the compounds to pass the 12-second FAA Vertical Burn Tests.
RTP engineers reacted quickly to modifications during development. "The quick turn-around in making formulation changes allowed us to optimize the performance requirements within a few months", said Avery. The Plane Clean Air is on the market today, providing relief and reassurance to many travelers. "It has been tested by an FDA certified lab and found to remove more than 99.5% of viruses and bacteria from the nozzle air stream," continued Avery. "Moreover, thanks to RTP, it meets the FAA defined test requirements for commercial aircraft interior components."
Product Features & Benefits
Nozzle: RTP 300 TFE 15 FR
Minimizes wear in plastic-to-plastic applications
Reduces friction and particulation
Increases part life
No external lubricant required, eliminating contamination source
Passes rigorous FAA burn test
Housing: RTP 300 FR
Formulated in a transparent blue tint capable of passing FAA burn tests
Color coordinated with other components
Avertech, Inc. developed the Plane Clean Air (www.planecleanair.com) product for Travel Health Products Inc. The product is distributed by Elite 1 Trading, Inc. For more information call 949-830-7060 or visit www.Elite1Trading.com.