End-Use Case Study
Highly conductive nylon provides stiffness
Minimizes static electricity damage to electronics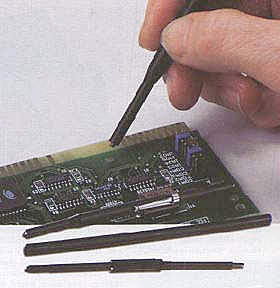 Shin Chin Industrial Company, Ltd., in Taiwan tapped the international expertise of RTP Company in designing a family of durable, anti-static alignment tools. The slim, lightweight tools are ideal for making sensitive repairs and adjustments to electrical or electronic components.
RTP Company engineers developed an electrically conductive compound meeting all material demands for impact resistance, stiffness, and superior ESD properties. The tool barrels are molded from an RTP 200 Series nylon 6/6 with a surface resistivity of less than 10 ohms/sq. A flexural strength of 18,000 psi, combined with a tensile strength of 12,000 psi, gives the specialty compound the right balance of strength and rigidity.
Worldwide sales of the tools are growing among professional as well as do-it-yourself technicians. And, while savvy consumers may enjoy the challenge of repairing their own personal computers and other electronics, many are unaware of potential static damage.
Easy access to antistatic tools will help prevent costly mistakes. Shin Chin Industrial Company's products are packaged in convenient sets with duplex, trimmer, and square/hex heads.
Anti-static and standard alignment tools are private label manufactured for a variety of distributors by Shin Chin Industrial Company, Ltd., Taiwan, ROC.