End-Use Case Study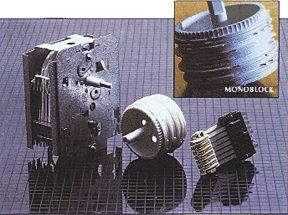 Eaton Corporation, Controls Division, is a leader in the development and manufacture of control mechanisms for the appliance and automotive industries. One product with which the new division excels is the timer control for dishwashers and washing machines. They have been a key supplier in this market for the last 25 years.
Eaton's standard dishwasher/washing machine timer incorporates a complexly molded cam wheel, called the monoblock, that advances a machine through its wash/rinse cycles. The monoblock is molded in a 150 ton press with advanced process control. Dozens of insert plates go into each cavity to enable Eaton to mold a monoblock to an individual customer's specifications. The tooling and molding of the monoblock and its assembly with the other timer components make the whole process a real marvel in manufacturing and assembly.
Acetal was the resin of choice for many years. In the early 70's, the company was asked by some key customers to provide a timer with a monoblock material that could meet the UL94 V-0 standard. Acetal, an HB rated material, is unavailable in a V-0 form. The need posed a major problem. Not only did they have to find a V-0 rated material that would perform well – good surface lubricity and wear resistance and the capability to withstand the hot, moist environment of the machines – but it had to be cost effective and compatible with the existing tooling.
The company's product development engineers evaluated plastics from almost every known resin supplier. Some 50 odd materials were molded and tested. In 1978, RTP Company, then the RTP division of Fiberite Corp. was one of the many companies working with Eaton. After 2 initial trial runs RTP was able to zero in on a HDPE formulation that met Eaton's needs. After 3 years of field testing, the special compound became the chosen material for customers needing the V-0 recognition.