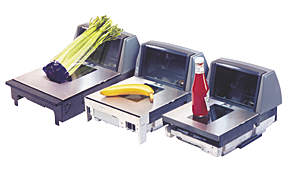 Checkers in leading supermarkets, hypermarkets, and mass merchandisers don't have to twist, turn, or lift items before scanning with the new Magellan SL® 360-degree scanner/scales manufactured by PSC, Inc. That's because the scanners simultaneously read the bottom and all four sides of store items using optical mirrors and advanced decoding software.
"This is the lowest profile scanner of this type on the market," said Ed Willson, Procurement Engineer with PSC in Eugene, OR. "It extends just 4 inches below the counter and is ideal for European checkers who do their jobs sitting down. There's plenty of leg room beneath the scanner."
The Magellan SL® is engineered for durability, using a variety of flame-retardant and glass-bead reinforced specialty compounds from RTP Company. Molder KASO Plastics, Inc., in Vancouver, Washington, worked closely with PSC to specify materials as part of KASO's Early Supplier Involvement Program.
"The number one reason we went with RTP Company was their service and response time," said Mike McGaa, Tooling Project Engineer with KASO Plastics. "Their compounds gave us the strength and cost-effectiveness we needed to design an excellent product. Everything went off without a hitch."
Flexibility was another factor in selecting RTP Company compounds. "Some of our products come in 20 to 30 custom versions, including special colors. I've been able to call for color chips and have received them in as few as four days," added Willson.
All structural components of the scale, including the chassis, platter, bonnet, bezel, and optics chassis, are molded from RTP Company polycarbonate compounds for high strength and rigidity. Glass beads are used instead of glass fiber to reduce warpage. Most compounds exhibit a V-0 flammability rating, since the majority of the components come into direct contact with electrical wiring.
The scale's platter features a thin stainless steel cover over a durable thermoplastic compound base. The base prevents the stainless steel from denting and improves long-term wear resistance.
The true measure of the scale?s performance comes during the 30-pound frozen turkey test. "They take a huge frozen turkey and slide it across the scanner, bumping it on all the parts. If it can maintain functionality and integrity after taking that kind of beating, it's passed the test", said McGaa.
Contact PSC, Inc., at their worldwide corporate headquarters in Webster, NY, 800-828-6489, for more information about their full line of bar code scanners. KASO Plastics, Inc., in Vancouver, WA, is a custom molder with 19 machines, processing round the clock for orders in the 28-500 ton range. Call them at 360-254-3980.