End-Use Case Study
Selected PPSU for its universal sterilization compatibility
Enhanced thermal conductivity reduces wet pack effect
Excellent dimensional stability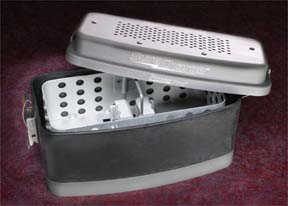 Linvatec Corporation is a leading manufacturer of arthroscopy and other surgical equipment. Their innovative line of Hall® Surgical equipment makes use of cordless battery power in such devices as sternum saws and bone drills.
Linvatec's PowerPro® SureCharge™ battery charging cases go through repeated sterilizations via steam autoclaving. Prior to sterilization, their reusable batteries are inserted into the case and discharged. Afterwards, the batteries are recharged in the sterile case environment to await the next surgical procedure. When the decision was made to replace their all-aluminum cases, Linvatec selected unfilled polyphenylsulfone (PPSU) based on its successful history in medical tray applications and its universal sterilization compatibility. Unfortunately, the PPSU cases experienced unacceptable dimensional variation and moisture buildup during the sterilization cycle. An ideal thermoplastic replacement material would need to improve dimensional stability through high temperatures and humidity, as well as offer both electrically insulative and thermally conductive properties.
Robert Lynch, Program Manager at Linvatec, worked with RTP Company to find a material capable of meeting these requirements. In order to avoid alterations to the existing tool, a proprietary PPSU-based material was formulated. The resulting RTP 1400 Series compound incorporates an additive to improve the thermally conductive properties, while maintaining the electrical insulating properties. Enhancing the heat deflection temperature to more than 400 degrees F @ 264 psi (204 degrees C @ 1.82 MPa), the compound easily holds dimensions and reduces moisture buildup during repeated sterilization cycles. Tests indicate the new compound more than doubles the through-plane thermal conductivity values of the PPSU base resin.
Both the charging case sides and lid are molded from the new material and, according to Lynch, "perform to the standards envisioned for the product." He said , "RTP Company assisted us from the material selection stage and brought professionalism, easily working within the given constraints." He added, "The specialty compound helped us meet our original goal having the PowerPro SureCharge sterilization charging case cut our customers' recharge time, and doing so consistently, time after time."
Linvatec Corporation of Largo, FL is a subsidiary of ConMed Corporation of Utica, NY. They manufacture arthroscopy/power surgical instruments in the U.S. and market them globally. For more information visit their website at www.linvatec.com. Seaway Mold and Engineering molds the cases. With locations in Port Richey, FL and Sterling Heights, MI, Seaway serves the electronics, computer, automotive, home appliance and medical industries.