End-Use Case Study
Fluorescent, glow-in-the-dark, metallic, and chromashift color technology
Color consistency
Excellent weatherability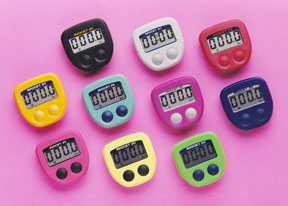 Each trend in bicycling seems to take the strain out of riding a bicycle and makes it harder to find an excuse for not joining the enthusiastic groups pedaling down the highway, up the mountains and across the countryside.
The after-market bicycle industry must certainly keep abreast of the changes and be innovative in their product developments for each new trend. One such after-market innovator is Avocet, Inc. of Menlo Park, California, manufacturer of bicycle computers and other accessories.
Computers for bicycles were developed about eight years ago and have met increasing popularity among all types of riders. More than half the pros used them during the 1989 Tour de France and 82% of those used were the smallest and lightest computer in the world, the Cylometer 30 by Avocet.
In addition to its compact, light, and user friendly features, the Avocet Cyclometers come in a variety of colors that add a classy look to a bicycle. RTP Company compounds provide the physical properties, UV protection and multitude of colors for the computer housings.
Of real concern to Avocet is the color consistency in every lot of the colors that include fluorescents and trendy custom colors. RTP Company provides that consistency by drawing on its 30 years of experience in making colored thermoplastics. In addition, because of RTP's compounding capabilities, the product meets mechanical requirements as well.
Henry Plastic Molding, Inc. of Fremont, California was selected as the processor because of their exceptional reputation among custom molders in the greater Bay area. As is always important to smoothly accomplish a successful manufactured product, the three companies worked closely together at each step.