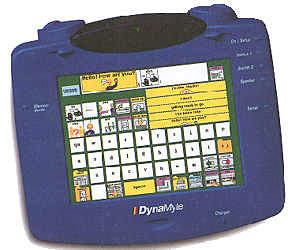 For the first time, individuals with speech, language, learning and physical disabilities can communicate in virtually any social or business situation through a lightweight, portable device. Sentient Systems' DynaMyte helps people express themselves easily using powerful software and a 42,000-term vocabulary that transmits a customized personal voice — all in a durable and attractive case.
"The DynaMyte is one product in a family of augmentative communication devices. It's important to give each distinct product a consistent look. Use of our corporate color on the case is one way we do this," explained Joanne Kaufmann, Corporate Communications Coordinator at Sentient Systems.
RTP Company was called in to work with experienced molders at Prototype Products, Inc., to ensure critical color matches of dissimilar materials in the unit's housing, legs, and feet. The parts are molded from high quality aluminum tooling that produces a guaranteed 100,000 shots per mold.
Combinations of high and low gloss materials used in the DynaMyte present a unique challenge for RTP Company's color technicians. A glossier precolored polycarbonate/ABS alloy used for the housing and legs require a critical color match with a low-gloss flexible styrenic-based thermoplastic elastomer used in the rubberized feet. To compensate for differences in light reflection, technicians impart a richer, deeper color to the low-gloss compound.
The DynaMyte also operates as a control center for household appliances, using infrared light beamed through a visibly-opaque protective cover. A precolored infrared-transparent polycarbonate was selected for the application and tested on a spectrophotometer to ensure the compound meets tight IR wavelength tolerances.
The polycarbonate/ABS blend used in the housing also provides durability for users on the go. Lightweight, yet impact resistant, the compound features Izod Impact at 73 degrees F of 10.0 ft-lb/in. and tensile strength at yield of 9100 psi.
Sentient Systems Technology, Inc., sells and supports a complete line of advanced augmentative communication solutions. Corporate offices are in Pittsburgh at 1-800-344-1778. Prototype Products, Inc., in Plymouth, MN, specializes in prototype and short-run injection molding. They are celebrating their 10th anniversary of innovations in aluminum tooling; contact them at 612-557-0995.