End-Use Case Study
Glass fiber reinforced polypropylene replaced thermoset hand layup process
Offers good mechanical and aesthetic properties
UV stabilized for good weatherability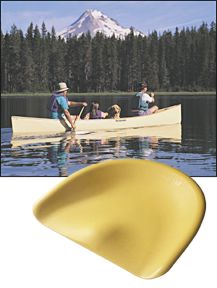 We-no-nah Canoe, the world's largest maker of ultra-light and high-performance canoes and touring kayaks, was born from a lifelong devotion to paddling by its owner, Mike Cichanowski. Headquartered in Winona, Minnesota, the company manufactures its watercraft for easy paddling and portaging using a wide range of hull materials and construction methods.
Last year, engineers at Stellar Mold and Tool proposed that Cichanowski switch his canoe seats from a hand-layup thermoset process to injection molding. They re-engineered the seat's design and constructed an affordable mold that kept changeover costs low. "We're seeing many advantages to the new seat, including easier assembly, better uniformity, more color choices, and significant cost savings," explained Cichanowski. "Not only did we eliminate one full-time position, but we reduced emissions created by the former layup process."
RTP Company's glass fiber reinforced RTP 100 Series polypropylene compound provides good mechanical and aesthetic properties. The compound features tensile strength of 6500 psi (45 MPa), flexural strength of 9000 psi (62 MPa), and flexural modulus of 0.40 psi x 106 (2756 MPa). It is UV stabilized, maintaining its appearance in spite of exposure to sun and weather.
Using the RTP Company compound enables We-no-nah Canoe to offer seats in three colors to match a craft's interior. Besides tan and black, a unique yellow color replicates the look of Kevlar™ used in some models.
Todd Lofald, Purchasing Manager at molder Highlight in Sparta, Wisconsin, applauds the move to injection molding. "This compound is very easy to mold, and it produces a consistent product that features their embedded logo. We just put the tool in our 750 ton press and away we go."
RTP Company compounds are also being tested in a new paddle design and as a replacement for aluminum in kayak rudder blades.
We-no-nah Canoe makes a diverse range of canoes, touring kayaks, and accessories to suit the needs of individuals or specific paddling situations. Contact them at 507-454-5430 or visit their website at www.wenonah.com. Molder Highlight in Sparta, Wisconsin, can be reached by calling 608-269-3191. Stellar Mold and Tool, Inc., is in Galesville, Wisconsin, at 608-582-4118 or www.stellarmold.com.
Kevlar™ is a DuPont registered trademark