End-Use Case Study
Multi-National Company Demands Leading-Edge Technology and Worldwide Service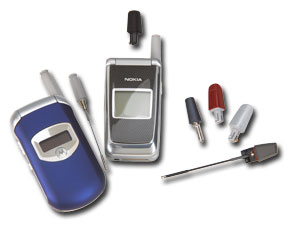 The cell phone industry calls for intense innovation, enabling consumers to communicate everywhere and at all times. Centurion Wireless Technologies is a pioneer in the industry. As a leading global cellular antenna designer and supplier, Centurion has shipped more than one billion antennas to the world's leading wireless equipment manufacturers.
Centurion's antennas combine small size with high performance, as well as integration with other components. Because of the demanding requirements involved, Centurion often turns to RTP Company for custom compounds. The engineers at RTP Company have formulated a multitude of specialty compounds for Centurion, ranging from RTP 1200 Series polyurethane thermoplastic elastomer and RTP 2800 Series olefinic thermoplastic elastomer, to RTP 300 Series polycarbonate and RTP 200 Series nylon 6/6.
Cosmetic considerations are imperative to Centurion, and often necessitate the need for an innovative solution Ñ especially for critical color matches.
"Choosing the right resin for the application's electrical and strength specifications is our first priority," said Jon Thorson, Purchasing Manager at Centurion. "However, color is very important since the majority of our products require color approvals from our customers and we often must match other components in the product that may not be plastic."
With this demanding set of requirements, RTP engineers must take into account mechanical properties, electrical properties, and critical color match requirements in formulating the proper materials. Other properties such as abrasion resistance, chemical resistance, fade resistance, and moldability also must be considered.
Creating special effect colors, such as metallic, generates unique challenges for Centurion and RTP Company. "Some customers like to use special effects to meet their customers' demands, and the effects tend to interfere with electrical requirements and normal molding parameters," said Thorson. "In one case, we had a very good match, but found that the parts measured higher than the specification allowed on the RF test. Fortunately, the engineers at RTP Company quickly provided a solution." (See case study.)
A Global Connection
Centurion's global customer project teams develop products using a high speed design process which facilitates rapid product launches. They boast a truly global footprint in manufacturing, design, and research. A product is often developed on one continent and manufactured on another. Their highest volume is produced at their Shanghai facility in China.
RTP Company is committed to providing strong worldwide support to Centurion. In order for Centurion to rapidly respond to their customers' requirements, their production capabilities must be global. To meet the global needs of Centurion, and other multi-national companies, RTP Company has expanded its own global manufacturing capabilities by establishing a fixed operation in Suzhou, China.
"Centurion is anticipating tremendous growth in China, and the majority of our production will go towards satisfying our larger customers' global needs," said Thorson. "RTP Company having full-service color lab facilities in China will be a big boost for us at Centurion."
Access to the RTP Company Global Color Library will also help Centurion meet their goals during development. "We need the shortest lead-times possible for matching color…rapid response is a must," said Thorson. "Reducing supply chain lead time is the key in the fast paced environment that we work in!"
Centurion Wireless Technologies, Inc. is a leading global designer and manufacturer of antennas and power products for wireless communications. Centurion's customers include the largest OEMs in the cellular handset, wireless data, telematics, and two-way radio markets. For more information, go to www.centurion.com.
A Case Study in RF Testing
A color match was completed and parts were produced for a Centurion antenna. However, there was a problem with the RF testing. The results of the test measured higher than normal and out of the specification range. By working closely with RTP Company, Centurion was able to determine that the pigment packaged used for the color match was the main contributor to the RF shift. The engineers at RTP quickly reformulated the compound, and through modifications to the pigment package were able to achieve the center frequency required in the specifications while still maintaining an excellent color match.