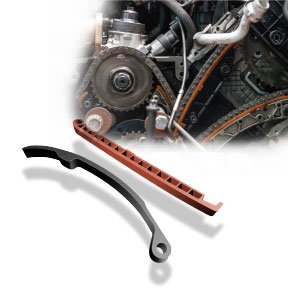 Due to their proximity to motors and their exposure to heat from the engine, oils, and greases, chain guides require an extremely durable material with a high heat deflection temperature. When a manufacturer inquired about a thermoplastic compound that could withstand these extreme conditions, RTP Company was ready with a solution.
RTP Company Solution
To meet these requirements, RTP Company engineers recommended RTP 200 ABR, which offers extreme durability, a high heat deflection temperature, and the option of colorability.
Benefits
The benefits to the manufacturer included:
injection moldable
colorable
increased design flexibility
improved consistency vs. machined parts
increased production capacity
reduced costs vs. compression molded or machined part