End-Use Case Study
Ecofriendly, flame retardant, reinforced polyester compound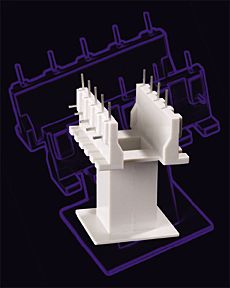 RTP Company, in conjunction with Epcos AG, a German manufacturer of electronic components, has developed a commercial line of glass reinforced, non-halogenated flame retardant polyester compounds. Based on PTT (polytrimethylene terephthalate), this product line is available in grades with glass fiber loadings from 10 to 33%.
RTP Company developed this compound in response to both the industry's and Epcos' call for a halogen free, eco-label compliant polyester compound for their coil former (bobbin) application. "We had started research and development on an eco-friendly, flame retardant, reinforced polyester prior to our work with Epcos. Although RTP Company had observed demand for such a product, no other materials were currently available in the marketplace," stated Paul Killian, Product Manager for Flame Retardant Materials at RTP Company. "When we found a customer that was interested in sampling our research, we got the type of industry feedback that you cannot get with laboratory trials."
Used in many modern, high performance technologies, Epcos'coil formers have specific performance requirements. The result was an RTP 4700 Series glass reinforced and flame retardant PTT material. Boasting a flexural strength of 23,000 psi (158 MPa) and a dielectric strength of 500 V/mil, this product successfully passed Epcos' internal testing. Quality evaluations included an Epcos crush test and stringent electrical tests. The exceptional strength and stiffness properties, as well as a heat deflection temperature of 410 degrees F @ 264 psi (210 degrees C @ 1.82 MPa) provided the performance Epcos' application required.
"We were looking for a halogen-free composite with a UL94 V-0 rating. We were also looking for the technical competence of RTP Company," commented Josef Sedlmeier, Director of Product Marketing and Design Accessories at Epcos AG. "RTP Company gave us fast response, competent technical people, flexibility, and provided sample material according to schedule. We chose RTP Company on a third party recommendation and we would choose them again."
For more information on RTP Company's flame retardant compounds call (507) 454-6900 or (800) 433-4787.
Epcos AG, located in Munich, Germany is a market leader in electronic components. They have Research and Development, production and sales facilities in over 100 countries around the world. Visit their website at www.epcos.com.