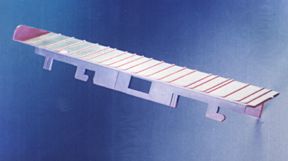 When Olivetti Canon Industriale needed a high performance thermoplastic compound for the paper holder in its best-selling copier model, it called on RTP Company's Italian representative, Daire Chemicals SpA.
Product development experts from RTP Company's Beaune, France, plant were called in to develop a new, specialized thermoplastic polyester (PBT) formulation specifically for this application. The material complied with Olivetti Canon Industriale's strict performance requirements while offering excellent molding processability.
The compound is used in a paper holder that slides sheets of paper cleanly toward the fusing area of the copier. The technical requirements for the compound are extreme and include:
maximum dimensional stability to meet tight design tolerances
high temperature resistance (160-180 degrees C)
UL 94 V-0 flame resistance classification
High conductivity (volume resistivity of 103 ohm/cm), to quickly dissipate electrostatic charges as the paper moves through the holder.
Turnaround time on developing and shipping the compound was short, with samples delivered just four weeks from initial meetings. Olivetti Canon projects a production of 120,000 paper holders per year for the next three years.
Olivetti Canon Industriale is located in Aglie, Italy. Their molder is Maplin in Torino, Italy.