End-Use Case Study
Long glass fiber nylon provides long-term creap resistance and dimensional stability
Lower cost and lighter weight than metal
UL94 HB flame retardant rating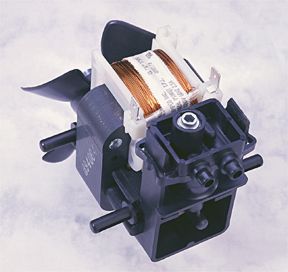 People who suffer from asthma and other bronchial ailments often rely on a medical product called a nebulizer. This device uses compressed air to dispense liquid medication as a breathable aerosol. With increased competition and changes in health care coverage, nebulizer manufacturers face extreme pressure to reduce their costs. Thomas Industries in Sheboygan, Wisconsin, fills that need with an innovative, low-cost compressor that uses injection molded components and an efficient snap-fit assembly.
Thomas Industries turned to RTP Company for a long fiber compound for two of its compressor components: the motor-end bracket and the housing. The compound was developed to provide repeatable, long-term creep resistance that is critical to facilitating the assembly process.
"Initially, we tried long fiber PET but did not obtain the required material or part properties," said Roy Rozek, Senior Key Project Leader for Thomas Industries. "We then considered long fiber nylon but were very concerned that the dimensional stability, due to moisture absorption, could present a problem. RTP's engineers proved they could produce a material that consistently processes to fixed dimensions. We saw dimensional changes of less than 0.001 per inch (0.25 mm) on critical dimensions during our mold capability studies. This included comparing dry-as-molded parts versus full moisture-saturated components."
The RTP 200 Series nylon specialty compound is reinforced with long glass fiber to provide flexural strength. Unnotched IZOD impact strength is 24.0 ft lbs/in at 1/8 in (1282 J/m at 3.18 mm), and flexural strength is 50,000 psi (345 MPa). The material is heat stabilized and carries a UL 94 HB flame retardant rating. The motor end bracket is designed with extended "fingers" that retain a sintered bronze self-aligning sleeve bearing in a snap-fit pocket. The molded fingers were studied using finite element analysis to ensure the design could maintain a long-term spring retention and to prevent bearing rotation. At the same time, the material was subjected to lab testing to verify the long-term creep resistant properties of the resin.
The housing features an insert-molded standard ball bearing and flexing cantilever supports. These supports, which were analyzed the same as the "fingers," also withstand bending stress as the compressor head is snapped onto two uprights.
Compressor parts, in their final assembled/stressed positions, survived thermal aging tests for 3 hours at 225 degrees F (107 degrees C). These tests simulate 8 to 10 years of aging at normal room temperature. The tests showed no noticeable change in flexural strength of the cantilever beams and no movement or loosening of the bearings.
Thomas Industries, Inc. is headquartered in Louisville, Kentucky, with additional manufacturing in Sheboygan, WI. They specialize in the design and manufacture of compressors and vacuum pumps for use in global OEM applications. Call them at 920-457-4891 or visit their website at www.thomaspumps.com.