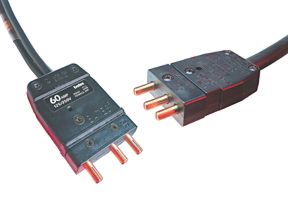 Electrical connectors in stage and studio lighting systems take a beating every time they are on the job. Handling currents ranging from 20 to 400 amps, they must be exceptionally resistant to heat. And, since they are frequently rented and installed by independent contractors, they must be strong enough to perform reliably time and again.
Advanced Devices, Inc., in Petaluma, California, conveyed these exacting demands to RTP Company's engineers when sourcing a thermoplastic compound material for its electrical connector housings.
ADI offers a wide range of connectors and uses RTP Company compounds for its 20, 60, and 100 amp models. The 20 amp version uses a strong, very high heat reinforced compound with a UL-94 V-0 flammability rating and a thermal deflection temperature of 400 degrees F at 264 psi (504 degrees C at 1820 kPa).
A few years ago, when ADI introduced its 60 and 100 amp versions, it again selected an RTP Company compound. The material required for these larger and heavier connectors had to be even stronger than the one used for the 20 amp devices ? without sacrificing thermal properties. "It's difficult to balance flame retardance and strength, but RTP Company managed to meet both specifications quite well," remarked Doug Kraus, Operations Manager with ADI. "With the increased restrictions on material due to the recent revision of UL 498, the job of finding the right compound was just that much tougher."
In addition to heat and strength performance, the molded housings have to provide a clean, flat surface for imprinting. "Lots of equipment gets rented on the same set, so our customers need a way to identify and reclaim their inventory," said Kraus. "We permanently brand the housings with the customer's name, leaving it plain or embedding a solvent-resistant colored foil. Either way, the imprints need to be complete and clear."
Advanced Devices, Inc., performs its own state-of-the-art captive molding. Contact them in Petaluma, California, at (707) 765-9792.