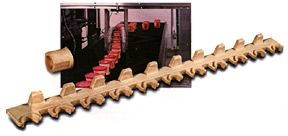 "We're very, very tough on our conveyors," says Klaus Daenzer, Engineer at Shuttleworth, Inc., in Huntington, Indiana. "And so are our customers. They simply will not tolerate repairs and bushing replacements when they're running our systems 24 hours a day."
Tough expectations for performance and reliability require tough materials to do the job. That's why Shuttleworth, Inc. chose an RTP Company 4500 series compound containing Carilon® and additional wear-resistant additives for components in many of its conveyors and material handling systems. Sold primarily for industrial and cleanroom use, these systems offer unique, low-line pressure to move products gently down the line.
"Our systems are very modular," explained Jack Pohl, Marketing Manager for Shuttleworth. "We feature individually-powered roller shafts with segmented rollers. If products encounter resistance or backup as they move down-line, the individual rollers stop rotating to avoid product damage."
"We expect our conveyors to last practically forever," said Daenzer. "We'd been using a standard wear material but wanted to try something new. An RTP 4500 Series product containing reinforced Carilon® was selected based on its load-handling capabilities under various speeds and temperatures." Bearings, shaft supports, and separators are now molded from the RTP Company product.
"We're always willing to try something new," Daenzer remarked. "RTP Company was very responsive when we were searching for a better material. They came through faster than other companies we considered. Their engineers are very knowledgeable on what's new in the market, and they recommend formulations to make our products perform even better."
Shuttleworth is finding new applications for the RTP 4500 series product by testing it in wet washdown environments commonly found in food production and packaging applications. "These environments are relatively cool–around 40 degrees F," said Daenzer. "Some materials provide good wear properties but will not tolerate a lot of water at this temperature. The Carilon® seems to meet our needs, and the test results look very, very promising. And, we're very happy with RTP Company."
Also see: Three Compounds Now Specified for Cleanroom Systems
Shuttleworth, Inc., Huntington, Indiana, has been in business for 36 years. They do their own molding and have engineering and manufacturing facilities in the U.S., Japan and Ireland. Contact them at 219-356-8500.
Carilon® is a registered trademark of Shell Chemical Company, Houston, TX