Eco-Friendly Flame Retardants Allow Global Sales of Hardware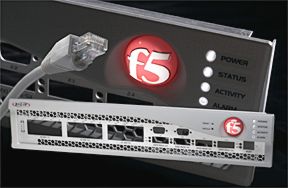 As long as your computer works, technology is, indeed, wonderful. The network of electronics, software and people that support your favorite website is most appreciated when unnoticed. As long as it keeps working, that's the way you like it. F5 Networks, Inc. likes their productsÑthe switching devices and balancers that help keep Internet servers efficiently runningÑto stay in the background. But, when it comes to marketing, F5 Networks wants their products to stand out.
To visually distinguish their product from other hardware, Bret A. Britz Sr., Mechanical Design Engineer, planned an eye-catching front bezel incorporating a two piece lighted logo sphere. Both bezel and logo sphere required color. The logo sphere material needed to be translucent, allowing sufficient light transmittance to accent the F5 logo. Both materials had to fill thin walls and hold exacting tolerances and both required flame resistance. Britz relied on his experience with RTP Company to find materials to meet his designs needs.
RTP Company supplied precolored compounds of RTP 300 Series high flow and flame retardant polycarbonate for the bezel. Both materials met requirements for appearance, with the additional benefit of lowering overall costs. Noted Britz, "The precolored materials allowed us to eliminate the painting process and impart an attractive, textured surface to the part." The materials high flow properties helped eliminate visual flaws around flow fronts. "The material flows extremely well," said Britz, adding that, "Knitlines were overcome with hardly any visible deviation." Precolored polycarbonate was also supplied in transparent red and white. A light pipe transmits a softly diffused glow through the translucent materials and the logo sphere is set off in dramatic contrast against the textured gray bezel.
An amorphous material with a mold shrinkage of 0.004 in/in @ 1/8 in (0.4% @ 3.18 mm), the polycarbonate both filled and comfortably held the necessary 0.025 in (0.5%) tolerance across the bezel length. It also met the even more exacting logo sphere tolerances of nearly 0.002 in (0.2%). As it is sandwiched with a snap fit between a metal plate and the bezel, this dimension is critical.
RTP 300 Series flame retardant polycarbonate compounds are capable of achieving a V-0 rating at 1/16 in (1.50 mm) with some grades being UL Recognized. In the logo sphere material flammability requirements were met with the use of a non-halogenated flame retardant. This allows compliance with the requirements of eco-friendly product labeling, increasingly in demand throughout the world. With this technology, RTP Company incorporates a unique char-forming mechanism that reduces smoke and toxic off-gasses without the use of halogens.
Britz noted an RTP Company separation from other suppliersÑmuch like the product separation F5 Networks has established. He credited RTP Company with providing materials both, "Promptly and with our specific needs addressed; questions were responded to quickly and by extremely knowledgeable people." Together, F5 Networks and RTP Company achieve distinction.
F5 Networks, Inc., of Liberty Lake, WA, provides network appliance and load balancing devices to the computer networking industry. For more information on their products visit their website at www.F5.com.