End-Use Case Study
Precolored PC/ABS provides good impact properties
Color matched to adjacent metal components
Reduced color metamerism under daylight and fluorescent light sources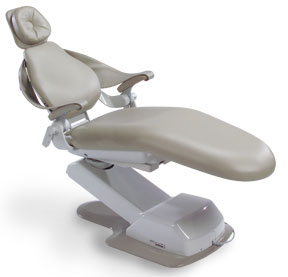 DentalEZ® helps to make dental offices comfortable with their patient-friendly chairs that elevate comfort and efficiency to create an ergonomically sound and organized work environment. They continually lead the industry by setting new standards for design, quality, and lead times for their dental operatory systems.
Visual appeal is essential to DentalEZ and their customers. Every component is meticulously fashioned in precise custom color palettes that are often designed in original hues, such as Greige, which is used exclusively for their equipment. If a custom color does not meet their strict standards, the component will be rejected. This is the challenge Seaway Plastics Engineering, a specialist in molded parts and assemblies, faced when developing the base of DentalEZ's J/V-Generation™ Chair.
When Seaway contacted RTP Company to formulate a custom compound for the chair base, DentalEZ had already rejected samples from a previous supplier. "Our initial supplier had suffered multiple rejections," said Paul Bernard, President of Seaway Plastics. "We were entering panic mode and needed a color match in a very short time-frame."
RTP Color quickly analyzed the unusual formulation and pinpointed the requirements. "Reducing metamerism was critical to the success of this project," commented Tim Duncan, Development Manager for RTP Company's Global Color Division. "This highly aesthetic application demanded the plastic components exactly match the adjacent a painted metal framework under both daylight and fluorescent light sources," continued Duncan.
RTP colorists formulated a pre-colored RTP 2500 Series polycarbonate/ABS compound with high strength and impact resistance in a Class A finish. The compound was perfect — in all lighting conditions — and the match was set.
Consistently, the compound passed DentalEZ's stringent tests. DentalEZ uses a color Spectrophotometer to check every component. "It has to be exact or we won't accept it," stated Wayne Boyett, Purchasing Manager at DentalEZ. "Not only does the part have to be the exact color match, it must be consistently precise. The aesthetic value of our systems is extremely high," continued Boyett. "That's what our customers expect and what we have been delivering for over 30 years."
RTP Color delivers compounds quickly in critical color match situations. "Our strength continues to be in effectively communicating with customers, defining their specific needs, and exceeding their expectations in areas where others fail," commented Duncan. "We create lasting relationships with our quick response and solid solutions."
DentalEZ Group manufactures everything, from handpieces to chairs to vacuum systems, to elevate the health, comfort and efficiency of the dental operatory. For more information go to www.dentalez.com.
Seaway Plastics Engineering, Inc. is a fast turnaround prototype and low volume production mold builder and injection molding company. For more information, visit their website at www.seawaype.com.
Examining Metamerism
Metamerism is a phenomenon in which colors appear to match under a particular light source, but do not match under a different light source. This may occur because different polymers often require a different set of colorants and will have a varied spectral reflectance. Lighting booths in the RTP Color Labs illuminate samples using differing spectral-power-distributions to mimic daylight, cool white fluorescent, and incandescent light sources to identify metamerism.