Long Fiber Compound Replaces Welded Stainless Steel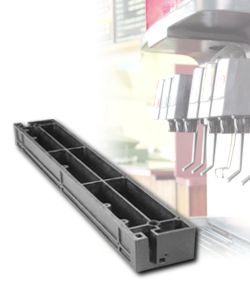 When Remcor, a division of IMI Cornelius, Inc., decided to replace the welded stainless steel on its soda and ice dispenser base, it turned to RTP Company. "We originally looked for a structural foam material and even considered a composite, but we rely heavily on the recommendation of our suppliers," explains Tom McCreery, VA Manager for Remcor. "Victor Plastics felt that the long glass fiber compound would be just as strong, if not more so, and certainly more economical to process."
RTP Company's engineers developed an RTP 100 Series polypropylene specialty compound that comes through with high strength-to-weight ratios and very low creep. Notched IZOD impact strength at 1/8 in (3.18 mm) is 5.0 ft lbs/in (267 J/m). Flexural modulus is 1.20 psi x 106 (8268 MPa). Specific gravity is 1.22.
The part is 24 inches (0.61 m) long with 1/4 inch (6.35 mm) walls. Two bases support a machine that can weigh between 150 and 250 pounds (68 to 133 kg). "We chose the long glass fiber polypropylene for its low shrinkage. Plus, it's chemically resistant and stands up to abrasive cleaners that are used in restaurants," explains Ron Brookhart, Project Engineer at Victor. "Going with this particular long fiber compound gives us a lower weight and cost per cubic inch than a short-glass ABS, for example. All around, it's an excellent material, and RTP's technical support adds a lot of value to the product."
Remcor, a division of IMI Cornelius, Inc., is located in Glendale Heights, IL. Call 630-539-6850. Victor Plastics is in Victor, IA. Reach them by calling (319) 647-3151 or visit their website at www.victorplastics.com.