End-Use Case Study
Glass Reinforced Compound Solves Flow, Breakage Problems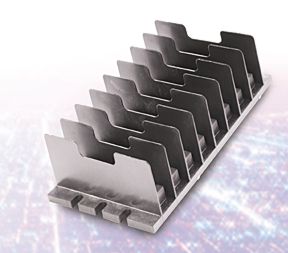 Stanwick Electrical Products and molder Pre Plastics turned to RTP Company for an RTP 200 Series nylon compound that meets the extreme demands of electrical terminal block carriers used in the utility/power generation industry. The terminal blocks are used in low-to-medium voltage switchgear and plant controls, and in transmission and distribution. Repackaged in 1994 using the new material, they replace individual barriers and mounting systems with a flat housing that contains rows of thin barriers.
"These fins are approximately 3.0 inch wide, 1.5 inch tall, and taper from 0.047 inch to 0.020 inch thick," explained Brian Miller, Director of Operations at Pre Plastics. "They have a tendency to break off and slow our cycle times. The part can also warp or bow, and that's unacceptable. The RTP compound is rigid, yet flows easily. And it gives us necessary dimensional stability."
RTP Company's engineers developed a compound that displays tensile strength of 15,000 psi (103 MPa) and a flexural modulus of 0.90 psi x 106 (6201 MPa). It has tensile modulus of 1.10 psi x 106 (7579 MPa), is UV resistant, and is rated UL94 V-0. Finding a solution that offers both rigidity and good flow keeps part costs low by avoiding alternative molding methods.
Stanwick Electrical Products is pleased with the material's field performance. "The carriers have been in the field for five years in all kinds of environments, with no failures to-date," said Cliff Stanwick, Owner. "Using RTP's material has significantly improved the overall electrical properties of the block, as well."
Stanwick Electrical Products serves major utility and power companies in the Southwest. They are located in Loomis, California; call (916) 652-7742. Pre Plastics is a full-service molder who specializes in part design and development. They are in Auburn, California, at (530) 823-1820, e-mail brian@preplastics.com, or website www.preplastics.com.