PermaStat® Technology Utilized in Monitor to Prevent Black Lung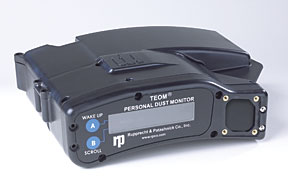 According to the National Institute of Occupational Safety and Health (NIOSH), coal workers' pneumoconiosis (CWP) or "black lung" was responsible for over 14,000 deaths between 1991 and 2000. To prevent CWP, miners need a warning when dust levels exceed the safety limit. NIOSH determined that it was imperative to improve upon the current dust auditing system and established a multi-year association with air quality measurement firm Rupprecht & Patashnick (R&P) to develop a real-time Personal Dust Monitor (PDM).
This PDM generates respirable dust information during a miner's working shift by utilizing R&P's tapered element oscillating microbalance (TEOM) technology for particulate measurement. TEOM technology has been used in thousands of instruments worldwide, but required special engineering to convert it into a miniaturized version designed for the rugged mine environment.
"The PDM is subject to extremely rough handling, scuffing, bumping, and occasional drops," said Dan Dunham, R&P Development Engineer. "The housing components provide dust ingress protection and must pass twenty drop tests from one meter height without compromising seal integrity. This was very challenging as the instrument weighs approximately six pounds." R&P turned to RTP Company to formulate a custom compound for the housing that would meet their conductivity, durability, and industry safety requirements.
The materials chosen needed to pass difficult explosion certification tests and meet the strict safety standards of the U.S. Mine Safety and Health Administration (MSHA), as well as UL, CE, IECex, and ATEX requirements for hazardous locations.
"Material selection was instrumental to passing these tests," said Dunham. "During a critical development phase, RTP Company was very responsive in formulating appropriate candidate materials that were static dissipative and robust enough for the application."
RTP Company custom formulated an RTP 2500 Series permanently antistatic polycarbonate/ABS alloy compound using PermaStat® technology for the PDM. This product has a notched Izod impact strength of 20 ft-lb/in (1068 J/m), easily surpassing the durability requirements for use in the mining industry. It also exhibits surface resistance of 108 ohms maximum, thereby meeting static dissipative requirements imposed by the various controlling agencies.
By utilizing RTP Company's PermaStat® technology, R&P has made it possible to reduce incidence of black lung and thus save lives. Based upon the PDM's readings, actions can be taken within a working shift to reduce coal dust exposures, and it can be used as an engineering tool to assess within minutes the impact of dust remediation approaches.
Rupprecht & Patashnick's PDM is the first advancement for monitoring respirable coal dust exposures in more than 30 years. In recognition of this achievement, they were named by R&D Magazine as a 2004 R&D 100 award winner in partnership with NIOSH, Bituminous Coal Operators' Association, United Mine Workers of America, and National Mining Association. Congratulations R&P!
R&P has established a global reputation for developing innovative and reliable high performance instrumentation designed to meet the most demanding regulatory applications for continuous particulate monitoring. They recently became part of the Thermo Electron Corporation. For more information, call 518-452-0065 or go to www.rpco.com.
Personal Dust Monitor (PDM) – Accurate, Continuous Measurement of Respirable Coal Dust.
PDM generates respirable dust information using TEOM technology. The primary data includes cumulative mass concentration (average dust loading since the beginning of the shift); current mass concentration (latest 30-minute average); and projected mass concentration (shift-averaged exposure if shift ended immediately). Additionally, it can be user-programmed to report secondary cumulative mass concentration (average dust loading since the beginning of a user-defined sample interval) and secondary current mass concentration (latest dust concentration measurement over a user-selected averaging time).