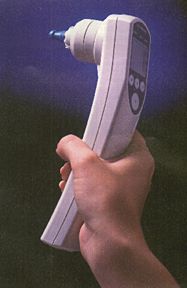 Complete hearing tests in 6 frequencies can now be conducted in 3 seconds using a remarkable new screening instrument called Ero-Scan?. Manufactured by Etymotic Research, the handheld device is completely self-contained and is ideal for testing infants, children, and adults.
Short lead times and precise color matching capabilities led molder GBE, LLC, to RTP Company, where color specialists critically matched two different precolored compounds to an auxiliary printer that outputs the test results. "We did our homework and decided on RTP,"said Mike Thompson, Manager Experimental Molding at GBE. "The color looked good, the material molded well, and it was delivered quickly. You can't get that kind of service from other processors."
Several components on the new device are molded using RTP Company compounds. The instrument casing is precolored PC/ABS with unnotched impact strength at 1/8 in of 35.0 ft lbs/in (1869 J/m) and tensile strength of 8500 psi (59 MPa). The probe housing is molded from precolored polyolefin thermoplastic elastomer with Shore A hardness of 80. Both compounds are FDA compliant.
"We wanted the benefits and flexibility of ABS, combined with the strength of polycarbonate," said Steve Iseberg, Product manager with Etymotic Research. "These are handheld instruments that need to survive impact and accidental dropping. These parts are so sturdy that I can bend and flex them and they maintain their shape without cracking."
Young children are difficult to test using traditional methods, yet statistics show up to 24,000 children born each year suffer from some degree of hearing loss. Placed gently in the ear of children or adults, Ero-Scan? quickly tests 6 frequencies and automatically saves data to memory. Following the test, the instrument is placed in the cradle of a high-speed printer, which prints results in 3 seconds.
Etymotic Research, Elk Grove Village, IL, is preparing to ship its first innovative Ero-Scan? test instrument to hospitals, clinics, and medical offices. Contact them at (847) 228-0006. Their molder, GBE, LLC, in Gurnee, IL, can be reached at (847) 336-1100.