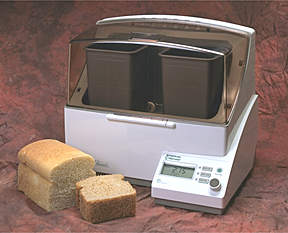 American Harvest, Inc. of Chaska, MN chose RTP Company to supply the material required for the bezel and outer cover of their Bread Classic? II breadmaker.
Heat resistance, flame retardance, durability, and color are the main specifications for the application. RTP Company formulated a specialty compound meeting all material requirements.
The polyphthalamide (PPA) compound, which is glass reinforced, withstands extreme heat while maintaining the application's aesthetic requirements. The RTP 4000 Series material achieves an unnotched impact strength of 4.0 ft. lbs./in. at 1/8 – in. The material performs from room temperature to 350 degrees F when the breadmaker is in operation.
Because the part is very visible, including the outer bezel and the door of the product, critical color matching is required. RTP Company research and development engineered the material incorporating the high temperature PPA compound, without the risk of discoloration from sustained heat.
Bill Brand, vice president of manufacturing at American Harvest, chose the combination of RTP Company, as the supplier, and Plastech Corp. of Rush City, MN, as the molder, because of their long histories of quality service. "Our manufacturing program incorporates all suppliers and component manufacturers during the initial design of the product," he says. "That assures the ultimate success of a project."
Since the introduction of the Bread Classic? II in September 1995, American Harvest remains the only company featuring a two-loaf breadmaker in today's market. American Harvest supplies food dehydrators and Jet-Stream Ovens? serving the housewares market.