End-Use Case Study
Reinforced nylon matches structural integrity with color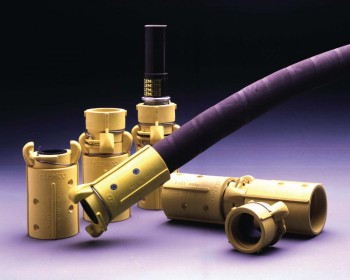 When Pro Mold wanted to help Clemco Industries, a leading manufacturer of industrial sandblasting equipment, find a new material for their hose coupling, they asked RTP Company for suggestions.
"We were having some problems with the color consistency of the material," stated John Murphy, Plant Manager of Pro Mold, "The couplings are different sizes and we were running into burning problems." The couplings are a part of Clemco Industries Ultralight system, known by their yellow color.
Pro Mold originally used a material that required coloring at the press. "We were having problems with the color stabilization. We started out three years ago with color concentrates. Use rates for the color were two to three pounds per hundred but we were having to use around seven pounds per hundred to get the consistency we needed. We tried going to a powder, and that helped a little, but there were still issues with the consistency. Smaller parts had longer residence times in the barrel, causing burn."
Pro Mold needed a custom compounded nylon that could provide a consistent color and heat stability for all sizes of parts, regardless of residence time. However, color and heat were not the only issues. Clemco Industries had designed the coupling to eliminate wear points that are found in most industrial plastic equipment. Due to the nature of the part, impact strength, wear resistance, and heat deflection were major concerns. The components, were designed to be combined with other components not only in the current system, but older systems as well. "You can't have a part that fails, people get hurt that way," commented Murphy.
The couplings are molded from a precolored, 200H Series nylon specialty compound reinforced with glass fiber. The compound is cost effective, provided ample impact strength at 18 ft lbs/in at 1/8 inch (961 J/m at 3.18 mm) unnotched, 2.8 ft lbs/in at 1/8 inch (150 J/m at 3.18 mm) notched and a flexural strength of 20,000 psi (138 MPa). The heat deflection of the material is 430 degrees F @ 264 psi (221 degrees C @ 1.82 MPa). The material, heat stability and brilliant color match from RTP Company, were the combination that Clemco Industries and Pro Mold were looking for.
Selecting a precolored compound eliminated the problems that Pro Mold was experiencing with color stability. Not only were they able to achieve consistency between the different sizes of couplings, but they are able to achieve lot-to-lot stability with the material.
RTP Company engineers and color specialists worked with Clemco Industries and Pro Mold to achieve the results that they desired. Murphy commented, "RTP Company has a knack for solving this type of problem."
Clemco Industries Corp. is a worldwide manufacturer of abrasive blasting, surface preparation and surface finishing equipment, located in Washington, MO. Visit their website at www.clemcoindustries.com. Pro Mold is a plastic injection molder that has been in business for over 10 years in St. Louis, MO. Contact them at (314) 344-9912.