End-Use Case Study
PC with transparent blue color highlights refill level
FDA compliant polymer and pigments
High strength and impact resistance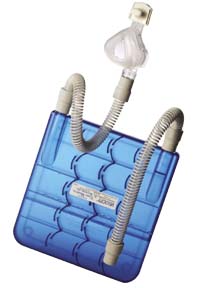 The Greek word "apnea" means, literally, 'without breath.' An estimated 18 million Americans suffer from obstructive sleep apnea (OSA). While asleep, OSA victims experience a collapse of soft tissue in the back of the throat, blocking respiration and stimulating the brain to cause frequent waking.
Left untreated, OSA can lead to such serious illnesses as high blood pressure, cardiovascular disease, memory problems and depression. Further, OSA is believed to be responsible for countless accidents and injuries directly traceable to a lack of quality sleep. As diagnosis has become more frequent, OSA is now recognized as one of the fastest growing maladies in America.
While not patients, Tim and Gary Austin of TAGA Medical Technologies, Inc. spent some sleepless nights themselves, searching for an answer to their customers' appeals for a product both effective and practical in the treatment of OSA. Previous treatments for the ailment consisted of using Continuous Positive Air Pressure (CPAP): air pumped to the back of the throat to prevent tissue collapse.
Unfortunately, the lack of moist air in methods used to maintain CPAP often dehydrated patients, leading to sinus problems. Worse, such discomfort sometimes resulted in suspension of treatment altogether. In response, TAGA Medical developed the Velocity™ Passover humidifier to treat OSA with an adequate level of patient comfort by providing cool, moist air to the patient.
Making use of a proprietary set of baffles, the Passover humidifier permits the least pressure drop and greatest relative humidity gain of all competitive models recently tested at an independent lab. To fabricate the baffle system in plastic, TAGA Medical worked with RTP Company and molder Elyria Plastics to make the product a reality.
RTP Company engineers responded with a customized RTP 300 Series polycarbonate compound in transparent blue. The compound was formulated with both FDA compliant resin and pigments, and incorporated high flow and lubrication additives. A notched Izod impact strength to 15 ft lbs/in (801 J/m) and a flexural modulus of 0.34 psi x 106 (2343 MPa) provided the strength and rigidity necessary for a durable, functional housing. Elyria Plastics reviewed the design and implemented a hot runner system, ensuring part-to-part consistency in the family mold.
As the humidifiers need to be portable, strength and impact resistance were a must in the material selected. Walls as thin as 0.050 in (1.27 mm) demanded lubricity and superior flow properties. Since the housing functions as a water reservoir, transparency allows the patient to see when a refill is required. Add-itionally, the final product had to be compliant with Class 2 FDA 510K standards.
Tim Austin noted, "RTP Company quickly recognized our growth potential and responded with small batches of material customized to our needs. This was service we hadn't seen from other companies." Austin continued, "This was really key to allowing us to steadily grow our production rate to market demands."
Located in Mentor, OH, TAGA Medical Technologies, Inc. designs and manufactures medical devices for the home healthcare industry and may be reached at (440) 953-9605. Visit their website at www.tagamed.com. Elyria Plastics is a custom injection molder located in Elyria, OH, they can be contacted at (440) 322-8577.