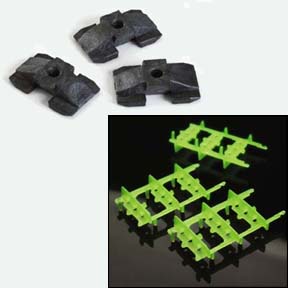 Research in Motion Ltd. (RIM) and molder Durden Enterprises turned to RTP Company for a versatile material. The specialty compound is used in RIM Inter@ctive(tm) Pagers.
The hand-held devices go well beyond traditional pagers, providing internet, intranet and data storage capabilities.
"Wireless messaging, including wireless e-mail, is rapidly growing in popularity," says David Werezak, RIM marketing vice president. "Research In Motion developed the Inter@ctive pager to give people the freedom of being `connected' with the power of being in control." As the product was developed, strict performance standards for the housing and other components were established. Reception interference, aesthetics and physical integrity were among the concerns addressed during formulation and prototype development.
A flame-retardant, impact resistant and precolored RTP 2500 Series (PC/ABS Alloy) specialty compound achieves all requirements. The precolored material exhibits V-0 at 1/16 in. and an un-notched impact strength of 35 ft. lbs./in at 1/8 in. (1,869 J/m). The formulation eliminates reception interference.
Consistent coloring is equally important to the application. Eight parts for each device are made of the special compound. Color matching and lot-to-lot consistency were among the benefits of working with RTP Company, according to John Holmes, mechanical designer at RIM.
"The wrought iron color of the pagers is very important," he says. "Having access to RTP Company colorists throughout the project is very helpful. This has been a genuine team effort."
Durden Enterprises (tel. 770-963-0637), in Auburn, GA, is a full-service injection molder providing in-house tooling (steel and aluminum), prototype development and molding. They operate presses from 28 to 250 tons serving electronics, sports/recreation, medical and other markets.