End-Use Case Study
Chemical resistance to hot bleach and saline
FDA compliant polymer and pigments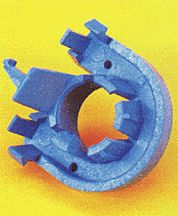 Althin Medical in Milwaukie, OR and PolyCast, Inc. of Tigard, OR came to RTP Company for a wear resistant, precolored compound for use in face plate connectors on a kidney dialysis machine.
The connectors, which require critical color matches, link distribution tubes to the device. Since the connectors are removed for cleaning, the application demands strength, environmental resistance, lubricity, and FDA compliance.
The material, a polyarylsulfone (PAS) specialty compound, achieves an un-notched impact strength of 30 ft. lbs./in. at 1/8-inch and a flexural strength of 13,000 psi.
The connectors are cleaned with hot bleach and routinely come in contact with concentrated saline solutions. Chemical resistance and thermal stability are other advantages of the material.
The processability of the material is equally important, as the connectors involve precise features. The cooperative spirit among the molder, OEM and RTP Company has led to the project's success, according to Rick Thomas of PolyCast, Inc.
The kidney dialysis machine, the Drake Willcock System 1000, utilizes innovative computer technology, including a touch video screen with open electronic architecture for easy integration of future dialysis therapy modes as techniques evolve. Among the many features of the system, ergonomics and cleanability.
PolyCast, Inc. is a custom injection molder specializing in critical tolerance molding for the business machines, test and measurement, automotive in medical markets. PolyCast has 16 molding machines, ranging from 28 to 400 tons. The also have complete design, engineering, automation and other value-adding capabilities.