End-Use Case Study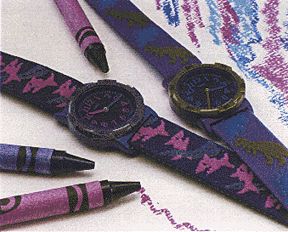 Kids will be kids. Whether climbing a tree or playing in the sand, anything children wear must be resilient, yet attractive.That's why TIMEX demands excellent color and durability for the bezel and housing on each GIZMOZ® watch.
The watches showcase a variety of colors and styles to appeal to kids of all ages. The bezel, or watch face, is made from specialty formulated precolored acetal. The housing is made of similar precolored material.
RTP Company colorists have developed over 90 color matches for product designers to review. RTP Company and TIMEX personnel worked closely to achieve subtle color variations for the GIZMOZ® project. With exact colors chosen, TIMEX relies on RTP Company for accurate coloring lot to lot.
The physical properties of the material are a good match for the application. The precolored compounds provide excellent dimensional stability and accuracy. These properties are essential to proper fitting components during the assembly of the watches.
Strict processing guidelines are maintained by TIMEX. RTP Company also provides materials for TIMEX INDIGLO watches. These sports watches cater to active adults.