End-Use Case Study
Compounds Keep Laser Printer Noise Low and Quality High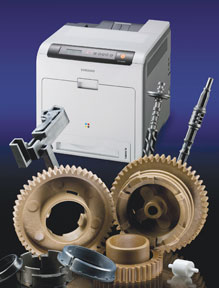 Color laser printers are quickly becoming the norm in office imaging, replacing black and white printers with their progressively smaller designs and reduced operating costs. Print quality and imaging speeds improve exponentially with every new generation of engine.
When Samsung Electronics, a world leader in designing and manufacturing laser printers engines for numerous OEM-branded printers, needed to improve its engines, they selected multiple RTP Company wear resistant and structural compounds for a variety of moving components. Parts replaced include the engine's paper feeding roller, fuser gear, roller shaft, and cartridge lever.
The engine is the functioning heart of a laser printer — using a series of proprietary technologies and processes. An image is first rendered onto a drum or belt. Toner is then applied to the imaged area, which is then transferred to a sheet of paper moving through the device, and finally, is permanently fused to the paper by a heated fixing unit.
According to Jin-Ho Kil, Sales Manager at Neochem Co., Ltd., "RTP Company materials were selected because they incorporated advanced lubricants, which provided better lubricity and higher wear resistance, resulting in less motion noise. Economically priced, these materials deliver a real advantage: printers now work smoother and quieter with reduced vibration noise emissions."
For the paper feeding roller, Samsung chose an RTP 800 Series acetal compound featuring PFPE (perfluoropolyether) oil and PTFE (polytetrafluoroethylene) internal lubrication to replace a PFA (perfluoroalkoxy fluorocarbon) material.
"The acetal compound exhibits low wear and friction, which is very important because the roller comes in contact with a steel spring system," said Jin-Ho Kil. "Cost was also a factor; PFA is very expensive — more than four times that of the RTP Company material — so replacing PFA created economies of scale with multiple advantages in functionality, manufacturing and cost savings."
Samsung selected an RTP 1300 Series glass fiber reinforced, PTFE lubricated PPS (polyphenylene sulfide) compound to replace a competing PPS material for gears in the fuser or fixing unit. Replacement was necessary due to problems with wear, friction, and noise with the old material.
"In test results, RTP Company's PPS compound showed excellent wear and friction resistance properties, extending the life cycle of the gear system," said Jin-Ho Kil. "There can be as many as 20 plastic gears in a printer, and with the fuser gear being the main drive gear, wear performance is critical."
High temperature and flammability resistance were also major requirements in selecting the RTP Company compound, which has a heat deflection temperature of 500° F @ 264 psi (260° C @ 1.82 MPa) and a UL Recognized-flammability rating of V-0 at 1/128 in (0.20 mm). In laser printer engines, the fuser gear is located adjacent to the heating roller where operating temperatures are normally between 350° to 400° F (180° to 200° C). Samsung engineers are also making gears smaller to facilitate reduced device footprints. This, coupled with faster throughput speeds, has resulted in interior temperatures that regularly increase with each engine iteration.
The engine's roller shaft and cartridge lever are both moving parts that required a material with excellent mechanical properties. For them, Samsung switched from a reinforced polycarbonate material to an RTP 1000 Series PBT (polybutylene terephthalate) compound using multiple reinforcements because it offered high stiffness, impact resistance, and passed UL94 flammability testing with a V-0 rating.
"When the shaft is rotating, high stiffness is important to reduce noise. When paper is pulled from the printer by an operator during a paper jam, impact resistance prevents breakage," said Jin-Ho Kil.
These RTP Company compounds are used for components in all of Samsung's current color laser printer engines and were recently qualified for a new engine design as well. Samsung manufactures engines for its own brand of home and business color laser printers as well as for printers branded by OEMs such as HP, Dell and Xerox.
The various engine parts are injection molded in South Korea for Samsung by several firms, including Kiwha Precision Co., Hanshin Kijeon Co., and Shin Heung Precision Co. Materials are supplied from RTP Company's compounding and customer support facility in Singapore.
Samsung Electronics Co., Ltd. is a global leader in semiconductor, telecommunication, digital media and digital convergence technologies. Recognized as one of the fastest growing global brands, Samsung Electronics is a leading producer of digital TVs, memory chips, mobile phones and TFT-LCDs. For more information, please visit www.samsung.com.