Seemingly Simple Application Has Complex Requirements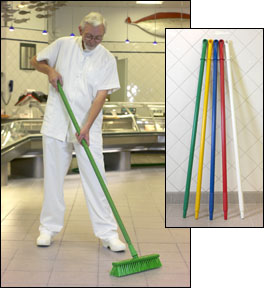 With a long history of providing painting and cleaning tools to professionals throughout Europe, family-owned HP-Industrial A/S of Denmark knew that stringent sanitation requirements in the food preparation and pharmaceutical industries demanded specialized equipment. This led HP to develop a broom handle that is both free of surfaces where dirt or bacteria could collect, and able to withstand the rigors of these industrial environments.
A broom handle requires strength and rigidity foremost, but in this instance, chemical and heat resistance were also necessary to withstand repeated cleaning with hot water or steam, along with various detergents and disinfectants. The product's length of 60-80 in (150-200 cm) demanded a material with high flow characteristics and a generous processing window. Additionally, the material was required to meet the FDA's extraction limits for polypropylene and be fully recyclable. HP chose to work with RTP Company to develop a suitable compound that met these diverse requirements.
To eliminate areas where bacteria could potentially collect, HP wanted to manufacture the handle in one piece, with no joints or seams. For handling and sanitation purposes, the surface needed to be smooth and completely sealed. To accomplish this, an injection mold with an 80 in by 1.25 in (200 cm by 3.2 cm) long flow length was built, and an internal core was utilized to achieve a consistent 0.08 in (2 mm) wall thickness throughout the entire handle. An RTP 100 Series long glass fiber reinforced polypropylene compound with a flow enhancement package proved to be the ideal choice of material for this unique application.
With traditional methods of reinforcing plastics, increased modulus usually corresponds with a reduction in impact strength. The higher aspect ratios of long fibers absorb energy and distribute the load more evenly throughout the resin matrix?both modulus and impact properties are increased simultaneously, making a long fiber compound suitably strong for HP's project. Coupled with the material's high flow package, the long fiber polypropylene compound achieves a fully filled, structurally sound part.
The broom handles are available in an array of five colors that allow for coded cleaning zones to be established within plants, each with its own designated sets of tools. Processing adjustments provide a smooth, resin rich surface. "The surface finish is equal to that of an unfilled resin, there is no visible evidence of the reinforcing fibers," according to HP's Niels S¿rensen. Further, S¿rensen said, "Our handles are totally straight when ejected from the mold without any warp and almost without shrinkage." Long fiber compounds exhibit heightened resistance to creep and fatigue resulting in parts that hold dimensions well, both out of the mold and through time under load.
HP-Industrial A/S manufactures professional painting and cleaning products from their facilities in Denmark. For more information, visit their website at www.hp-industrial.com.