End-Use Case Study
Reliability and Consistency Allow ORBIS to Meet USPS Requirements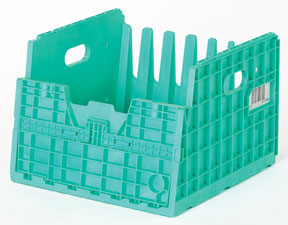 When ORBIS Corporation, a leading manufacturer of reusable plastic material-handling containers, was having trouble getting the delivery reliability they required from a material supplier they were using for a major new United States Postal Service (USPS) automation program, they didn't have to look too far for a replacement.
"RTP Company is a good customer of ours," said Bill McMahon, ORBIS Director of New Business Development. "We manufacture reusable collapsible bulk containers they use to ship plastic resin to their customers. These containers are made with a special high performance blend of plastic resin in a custom green color to match their brand identity."
Personnel from the two companies developed a good working relationship during the bulk container project. ORBIS hoped expanding their partnership with RTP Company would provide the reliability they needed to meet the demands of an aggressive implementation schedule for the new USPS system installations.
"Meeting the scheduled installation was not an option, said McMahon. "Changing material suppliers was the right move. RTP Company has been 100% on time."
The USPS automation system is the multi-billion dollar Flats Sequencing System (FSS) technology. FSS promises to automatically sort flat mail, such as magazines and catalogs, in "carrier route" sequence. This automation saves each of the 240,000 USPS carriers several hours a day that they were spending to manually sort mail into the route order, and in the process, provides the USPS with a revolutionary savings in labor costs.
The prime contractor for the new system, Northrop Grumman, worked with a number of vendors to design and produce the various system components of the FSS system. ORBIS' contribution is a specialized mail induction tray, thousands of which will be zipping along conveyors at almost 100 USPS locations being brought online, a tightly scheduled handful per month, over the upcoming months.
"Our durable plastic induction trays are designed and injection molded with very tight tolerances to successfully interface with the precision automated system," said McMahon. "And they need to maintain dimensional stability through many, many uses on a fast-moving system around the clock. The right material is key."
The material that consistently meets these stringent performance requirements is an RTP 100 Series mineral reinforced polypropylene compound.
"The product has to be spot on every time," said McMahon. "Both the USPS and the prime contractor have very rigid quality inspections, so consistency is imperative. And we've had zero issues working with RTP Company."
"In the manufacturing of our plastic trays, totes, containers and pallets, we use standard materials like straight polyethylene and polypropylene," said McMahon. "But when we need to develop a specialty compound, it's great to have a supplier with the expertise, consistency, and especially, the reliability of RTP Company. RTP Company is becoming a great partner for us."
ORBIS Corporation, a subsidiary of Menasha Corporation, is based in Oconomowoc, WI and manufactures reusable plastic totes, pallets, dunnage, and bulk containers. For more information, visit www.orbiscorporation.com.