End-Use Case Study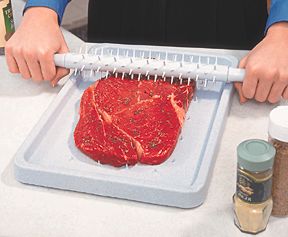 Inventor Michael W. Thompson, President and CEO of Soaring T, Inc., in Reno, Nevada, knows how to bring a good idea to market. His innovative new Gourmet Tenderizing System went from concept to sale in just nine months with help from RTP Company and other local business partners.
The System features a sturdy tray with a spiked rolling pin that pierces the meat, lacing it with flavorful marinade. It saves time and labor over tenderizing with forks and mallets.
After a patent search, Thompson turned to Synergy Technology, Inc., a Reno design firm, to develop the complex tooling. "Early on, we brought in RTP Company's team from the nearby Dayton plant to help with sampling materials," said engineer Ray Bryan from Synergy. "Although I try to stay neutral, the convenient location of RTP's lab and compounding facility, combined with their successful track record on other projects, made them the best choice for this project."
Engineers at RTP Company formulated two specialty compounds that exceeded Soaring T's standards and enabled the System to boast a ten-year warranty against melting or warping, even in the bottom rack of the dishwasher. A dimensionally accurate RTP 100 Series mineral-reinforced polypropylene compound was specified for the marinade tray. It is an FDA-compliant component and is precolored with a unique, granite-fleck gray to maximize consumer appeal.
The three-piece rolling pin assembly is made from an FDA-approvable RTP 300 series polycarbonate. Internal lubrication allows the parts to glide smoothly with minimal wear. Flexural strength is 12,000 psi (83 MPa) and unnotched impact strength is 35.0 ft lbs/in (1869 J/m) at 1/8 inch. A heat deflection temperature of 270 degrees F (132 degrees C) at 264 psi (1820 kPa) keeps the pieces from warping in the dishwasher so they can be cleaned separately and reassembled.
Thompson's vision of making The Gourmet Tenderizing System a kitchen necessity is working. QVC, the popular cable marketing network, began selling the System in late 1998. "Without the cooperation of RTP in Dayton, we wouldn't have met our extremely short delivery deadline with QVC," said Thompson. "They made our needs a priority and made our product fly."
Soaring T Incorporated was founded in February of 1998 to market The Gourmet Tenderizing System, with future expansion toward a full-service product development firm. Contact Mr. Thompson at (702) 746-2922. Synergy Technology, Inc., (775) 849-3330 and molder Triad Plastic Technologies (702) 356-6653 are both located in the Reno, Nevada, area.