End-Use Case Study
Grey PC/ABS compound with glass fiber provides impact strength
Cosmetic finish with excellent dimensional stability
Chemical resistance to cleaning alcohol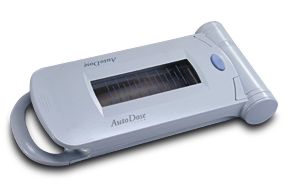 Tandem Medical's AutoDose® Infusion System is the first and only automated, portable system that delivers pre-measured intravenous drug protocols without electricity or batteries. Individuals can receive or administer I.V. therapy using just two supplies: the AutoDose Bag and the AutoDose Pump.
Mark Mooradian, Senior Principal Engineer, and Dan Glazerman, Principal Mechanical Engineer at Tandem Medical, partnered in the material selection process for the innovative mechanical pump. "Virtually 95% of the pump housing and internal components are made from an RTP 2500 Series PC/ABS compound containing glass fiber," explained Glazerman. "It has excellent dimensional stability, chemical resistance to alcohol (for cleaning), and a nice cosmetic finish."
"The RTP compound allows us to mold large, relatively complex shapes without distortion," added Mooradian. "We tried higher-crystalline resins, but the long edges on the parts didn't look straight. PC/ABS gives us a good blend of dimensional stability and other important properties."
The pump features a large, flat, stainless steel spring that operates much like those in mechanical watches. As the housing is opened, the spring retracts to its starting position. The stored force then gently and evenly dispenses up to four I.V. solutions from the bag, which is conveniently pre-filled at a pharmacy.
If the portable system is dropped, the compound offers protection with unnotched IZOD impact strength at 1/8 inch (3.18 mm) of 15.0 ft lbs/in (801 J/m). Flexural strength is 26,000 psi (179 MPa) and tensile strength is 18,000 psi (124 MPa).
RTP Company's color technicians provided a critical PMS-matched sample. "We're definitely pleased working with RTP," said Mooradian. "The lead time for color samples and orders is short, and we avoid the high minimums common to other suppliers. Their overall response time, from a business standpoint, is excellent."
Tandem Medical, Inc., is a leader in developing automated drug delivery systems for pre-determined infusion protocols. Call them at (858) 673-3900 or visit their websites at www.tanmed.com and www.autodose.com.