RTP Company Introduces New Sheet Extrusion Division in Winona, Minnesota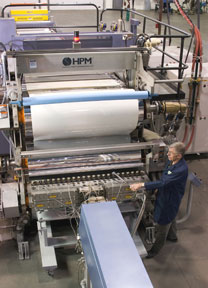 We are proud to announce the opening of our new RTP Company Sheet Extrusion Division, headquartered in Winona, Minnesota.
State-of-the-art production sheet extrusion equipment has been installed at the new Sheet Division facility that is capable of producing sheet and roll stock from 0.010 inch to 0.400 inch (0.25 mm to 10 mm) thick in widths up to 62 inches (1.5 m). The facility offers full-service extrusion. Quality assurance tests include melt flow index, melt strength and filler dispersion.
Heading the new Sheet Division is Bill Minogue, Division General Manager. "Bill brings impressive experience to RTP Company, including 12 years in the sheet and extrusion industry and 22 years of management experience," said Hugh Miller, CEO of RTP Company.
The opening of the Sheet Division is a result of the continuing effort by the company to support the development and manufacture of specialty compounds specifically used in extrusion applications. The Sheet Division is a future growth area for RTP Company and augments the custom compound portion of their business.
Having both compounding and sheet extrusion capabilities gives RTP Company a unique competitive advantage. "Because of the technical expertise and library of formulations RTP Company has developed over the past twenty plus years for the injection molding market, we are uniquely qualified to become a leading supplier to the custom sheet and roll extrusion market," said Bill Minogue, Division Manager.
RTP Company is privately owned and has experienced rapid growth through product innovation and unbiased technical expertise which allows the company to maintain complete objectivity in selecting and recommending materials. "One of the main reasons for RTP Company's success, and what we intend to emulate in the sheet extrusion market, is our polymer technology independence," said Minogue. "This allows us to be objective and forthright in our approach to customer desires and development efforts."