End-Use Case Study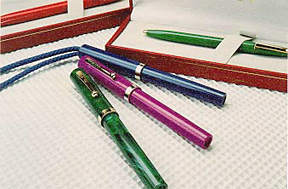 Sheaffer, Inc., of Fort Madison, IA, a manufacturer of assorted writing instruments, called on RTP Company to meet multiple material requirements for the new line of Award™ Roller Ball pens.
Surface finish, durability and critical color matching were the primary considerations for the application.
RTP Company research and development engineers chose an RTP 600 Series (ABS) material to meet the demands of the application.
The material was selected for its ability to achieve the right combination of impact strength with rigidity, processability, and excellent aesthetics. The specialty compound is formulated to prevent stress whitening.
Critical color matching of the pen's barrel and cap is equally important. RTP Company meets this requirement through lot-to-lot consistency throughout the production process.
Award™ Roller Ball pens are available through multiple retailers and specialty product distributors worldwide.